Commissioned Works/Special Projects is our program offering financial and administrative assistance to individual artists. We act as a fiscal agent for those artists applying for grants from federal and state programs and private foundations. Through this program we help develop collaborative projects between artists and assist with the presentation of their work. In 2017, we have sponsored the following projects:

David Simons: Movement Activated Sound in Liminal Space
"Movement Activated Sound in Liminal Space" is an interactive system which uses Theremin and webcam as controllers that change channels of a radio by the performers' proximity and speed of movement, by using customized SDR (software defined radio) to access local and international broadcasts. This project was commissioned by Harvestworks with funding from the New York State Council on the Arts.
David Simons composes music for theater, dance, film, installations, and concert ensembles. His unusual collection of sounds from self-built and non-European instruments combines with digital sampling technologies to create a unique pan-cultural music. He has devised his own method of using the Theremin as a Midi controller. David has researched and performed music from many of the world's cultures, and furthered his music studies in Bali, Bangkok and Seoul. As a founding member of the FUTURE PRIMITIVE ENSEMBLE his pieces were heard live on radio and in concert throughout the U.S. He has also performed on tour in Java, Bali, Korea, Japan, Eastern and Western Europe, Canada, Cuba and Hawaii.
Hans Tammen: Crossing The Lagrangian Point
Continuing his decade-long work with large ensembles using electronics, Tammen's "Crossing the Lagrangian Point" uses performers who create sound, light and visuals at the same time, in that multiple threads come together in one unifying whole. The piece is a large 60-minute sonic and visual multi-movement piece for several light and sound artists, and is part of Tammen's ongoing Dark Circuits Orchestra concept. It unites contemporary visual and musical styles and techniques, bridges the cultural gap between many historically divergent practices, and is the logical next step in Tammen's work with large electronic ensembles. This project was sponsored by Harvestworks with funds by the New York State Council on the Arts.
Watch "Crossing the Lagrangian Point" here.
Hans Tammen likes to set sounds in motion, and then sit back to watch the movements unfold. Using textures, timbre and dynamics as primary elements, his music is continuously shifting, with different layers floating into the foreground while others disappear. Whether richly processed guitar sounds from his hybrid interactive guitar/software instrument Endangered Guitar, traditionally notated material for his Third Eye Chamber Orchestra, or graphically notated elements for the all-electronic Dark Circuits Orchestra, his music flows like clockwork, "transforming a sequence of instrumental gestures into a wide territory of semi-hostile discontinuity; percussive, droning, intricately colorful, or simply blowing your socks off" (Touching Extremes).
Christina Campanella: Find Me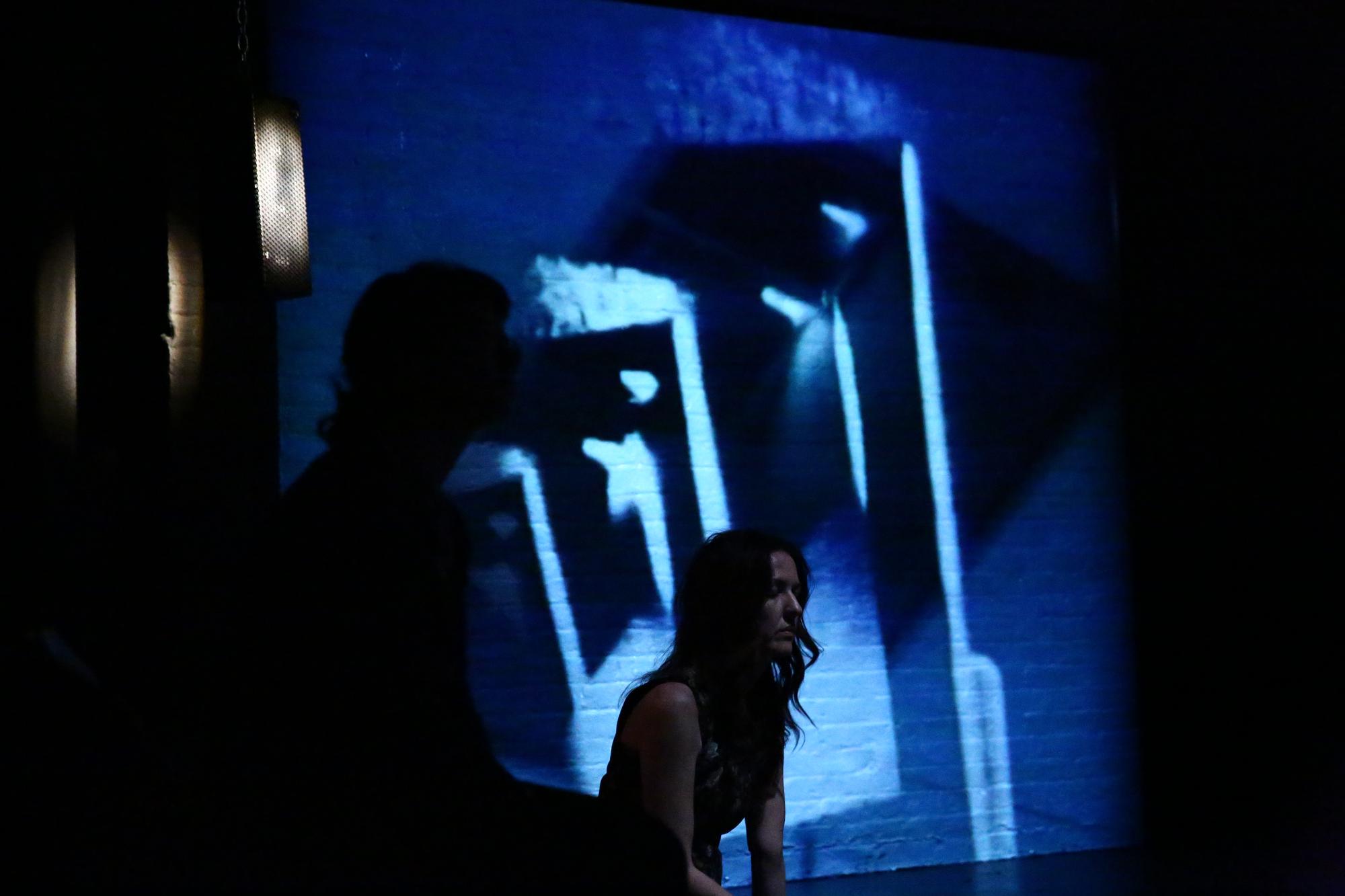 Find Me is a 3-D sound installation and performance-without-performers that explores the phenomena of getting lost and finding one's way. A mesmeric, immersive environment created by composer/performer Christina Campanella and sound designer/writer Jim Dawson. Find Me is composed of sonic ephemera in which field recordings, music and industrial drones swell into electro-symphonic motifs. The audience moves through and around invisible walls of sound deployed via a 12:1 multi tiered system of speakers that emanates sound from all sides and above. Find Me uses the potential of sound spatialization to manipulate the internal mapping sense that shapes our perception of where we are. This project was made with support from New York State Council on the Arts (NYSCA) via Harvestworks.
Watch an excerpt of Campanella's Find Me.
Christina Campanella is a composer, vocalist and sound artist who creates music and sound-based works across disciplines. Her pieces for theater, film, installation and playback blend songwriting and composition with aural design, weaving found sounds, ambient textures, and a dreamy avant-rock sensibility into cinematic soundscapes and deconstructed art songs.
Joseph Morris: The Solar Particle Wind Chime
The Solar Particle Wind Chime is a data sonification system made from hand blown glass that retrieves solar wind data from the NASA ACE Satellite located at Lagrange Point L1, between Earth and the sun, at a distance of 1.5 million KM from Earth. Solar particle and wind flare data is streamed from The Space Weather Prediction Center in real-time, and the sounds you hear are affected by the stream of energetic particles coming from the sun. This project was made with support from New York State Council on the Arts (NYSCA) via Harvestworks.
Watch Morris' Solar Particle Wind Chime here.
Joseph Morris is a transdisciplinary artist based in Brooklyn. He is an expert craftsman and coder who believes in the possibilities enabled through the integration of technology in the arts. His emotive machines have been on exhibition in New York, Chicago, Brazil, New Haven, New Mexico and Arizona by galleries and organizations such as Chazan Family Gallery, Creative Arts Workshop, Gibney Dance Center, 4heads, ACRE Projects, Oi Futuro and more.
Victoria Vesna: Bird Song Diamond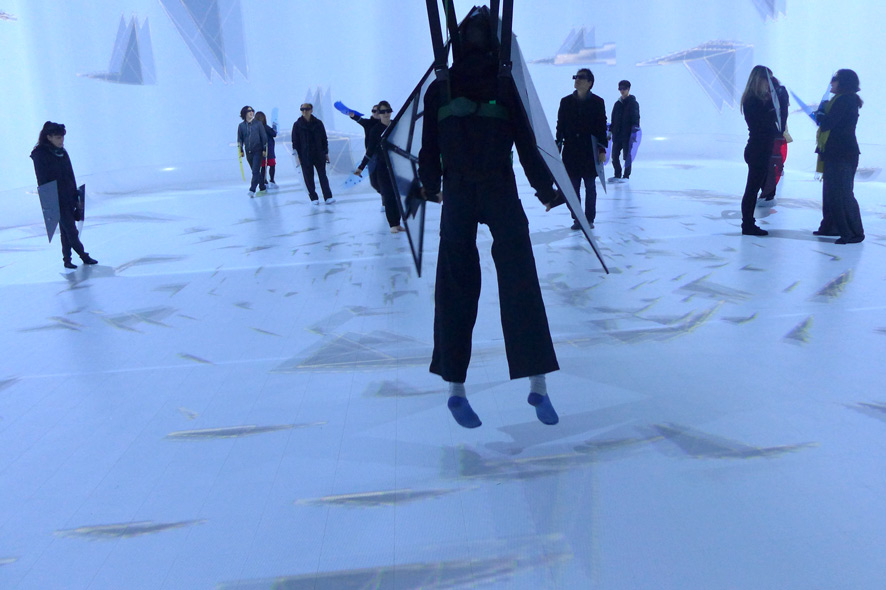 Bird Song Diamond is an interactive installation based on long-term research (2011- present) allowing multifaceted, interdisciplinary perspectives — uniquely connecting the nodes of evolutionary biology, artificial intelligence, spatial sound, mechatronic art and interactive technologies. The diamond as a crystal lattice of connected nodes reflects the commitment of each node to its disciplinary rigor held together in balance through shared interests. The sound art installation is an effort to include multiple new facets of the larger public — from children to art lovers and from academics to theoreticians. Bird Song Diamond was sponsored by Harvestworks and funded by the David Bermant Foundation.
Watch Vesna's installation.
Victoria Vesna, Ph.D., is an Artist and Professor at the UCLA Department of Design Media Arts and Director of the Art|Sci Center at the School of the Arts (North campus) and California NanoSystems Institute (CNSI) (South campus). Although she was trained early on as a painter, her curious mind took her on an exploratory path that resulted in work that can be defined as experimental creative research residing between disciplines and technologies. With her installations she investigates how communication technologies affect collective behavior and perceptions of identity shift in relation to scientific innovation. Her work involves long-term collaborations with composers, nano-scientists, neuroscientists, evolutionary biologists and she brings this experience to students. Currently she is working on a series Art Science & Technology based on her online lecture class.