Commissioned Works/Special Projects is our program offering financial and administrative assistance to individual artists. We act as a fiscal agent for those artists applying for grants from federal and state programs and private foundations. Through this program we help develop collaborative projects between artists and assist with the presentation of their work. In 2015, we have sponsored the following projects:
Mari Kimura: Voce-MO
Voce-MO is a 15 – 18 minute composition for voice, violin with interactive graphics projected on dresses, accompanied by a string quartet. Voce-MO explores the relationships and conflicts between people who have the same ethnicity but live in alternative cultural and geological environments. This project was made with support from New York State Council on the Arts (NYSCA) via Harvestworks.
Watch the performance here.
Mari Kimura is at the forefront of violinists who are extending the technical and expressive capabilities of the instrument. As a performer, composer, researcher, and entrepreneur, she has opened up new sonic worlds and new musical possibilities for the violin, earning international acclaim as a soloist and recitalist in both standard and contemporary repertoire.
Sergio Krakowski: Talking Drums
"Talking Drums" is a 20 minute composition for percussion, text and electronics that investigates musical rhythm and language. Using technology developed for his PhD in Computer Music, Krakowski creates video projections of speech and music that are controlled by percussion through a real time dialogue between percussionist and computer. "Talking Drums" was commissioned by Harvestworks with funding from the NY State Council of the Arts and presented in a myriad of stages such as The Guggenheim Museum of Bilbao, Drom – NYC, (Le) Poisson Rouge – NYC, Oi Futuro – Rio de Janeiro, and at the Museum of Moving Image – Queens – NYC, as part of the NY Electronic Art Festival 2015.
Watch "Talking Drums" here.
Born on December 18th 1979, Krakowski has dedicated his whole life to the Pandeiro, also known as the Brazilian Tambourine. A complete "hand drum kit", this instrument has always been considered a symbol of Brazilian Music and Culture. Crossing whatever national and cultural barrier, Krakowski made this instrument a possible tool in various musical genres, from the Choro, the fundament of Brazilian Music, to Jazz, Contemporary and Electronic Music.
Christina Campanella: I WENT TO THE LIGHTHOUSE (AND IT WASN'T THERE)
I WENT TO THE LIGHTHOUSE (AND IT WASN'T THERE) is a 3D sound installation-performance by Christina Campanella/Latitude 14. The audience wends through a forest of speakers; fractured sonic dispatches evoke the dimensionality of future landscapes; an imagined world replaces one erased by rising seas. The installation is primarily sonic architecture, the parameters of the space and the outlines of the narrative are conveyed by the sounds as they move through the 8:4:1 multi-tiered system of speakers. LIGHTHOUSE seeks to free listeners from any physical space, except for being inside the environment and out. The system creates a hermetic world that people can enter; their ears complete the piece by experiencing the logarithmic movements of sound. Listeners can also experience the piece from outside, as a considered whole, a distant thickness of separate yet complete sound. LIGHTHOUSE was developed through a residency at Harvestworks, commissioned with funds from the New York State Council on the Arts.
Watch the performance here.
Christina Campanella is a composer, vocalist and sound artist who creates music and sound-based works across disciplines. Her pieces for theater, film, installation and playback blend songwriting and composition with aural design, weaving found sounds, ambient textures, and a dreamy avant-rock sensibility into cinematic soundscapes and deconstructed art songs.
Shaun Irons: Standing By: Gatz Backstage
Standing By: Gatz Backstage is an atmospheric portrait of backstage life during Elevator Repair Service's acclaimed, theatrical work Gatz, during which every word of The Great Gatsby is voiced and enacted on stage. This observational and poetic documentary, shot over six days in London, follows the company through a composite day, condensing a series of 8-hour performances into a 79-minute film. Standing By was made with support from the New York State Council on the Arts (NYSCA), Individual Artists Program via Harvestworks.
Watch the trailer for Gatz.
Throughout his career, Shaun Irons has engaged a provocative synthesis of video, film, audio and sculptural objects to create multidisciplinary performances, multimedia installations, experimental films, documentaries and interactive video scores to accompany live performance. Irons does not make distinctions between these forms but sees them as deeply interconnected and equally part of his ongoing artistic output.In addition to media work, Irons maintain a daily, ritualistic practice of drawing and photography.
Phillip Stearns: Open Hardware HD Video Synthesizer
The Open Hardware HD Video Synthesizer project is dedicated to the design and creation of an open hardware based modular analog HD video synthesizer and signal processing system. This project was made with support from New York State Council on the Arts (NYSCA) via Harvestworks.
Phillip Stearns is a Brooklyn based artist and designer producing both physical and intangible works, performances, and experiences using electronic media. His practice spans several disciplines from creative coding and physical computing to interactive light and sound installations, computational weaving to performances using light and sound.
Elizabeth Phillips: Wave Crossings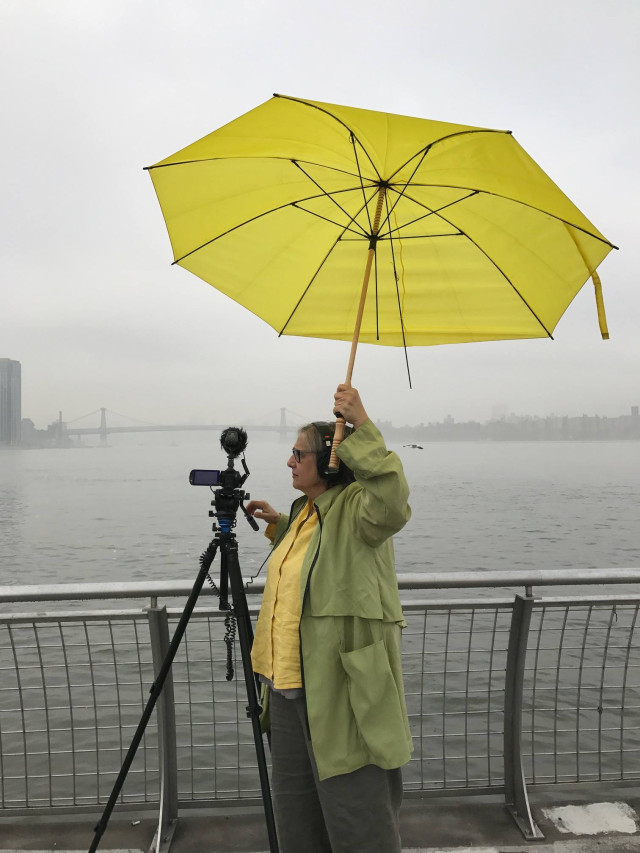 This wave, sound and site specific installation and website uses our full senses and a telemetry system to explore, amplify and reinforce the sonic architecture of a contained chapel (Cornelius) space and the sound and waterscape surrounding the Island (Governors Island). Wave Crossings was sponsored by Harvestworks through commission from the NYSCA. Additional funding was received from the David Bermant Foundation through Parabola Arts Foundation.
Watch the video of Wave Crossings here.
Queens-based artist Liz Phillips has been making interactive multimedia installations for the past 50 years, which combine audio and visual forms with new technologies to create an interactive experience. Phillips has exhibited interactive installations at numerous art museums, alternative spaces, festivals, and public spaces. These include multiple installations at the Queens Museum, The Whitney Museum of American Art, Lincoln Center, The Milwaukee Art Museum, the Spoleto Festival USA, the Walker Art Museum, Ars Electronica, The Kitchen, and Creative Time.
Sandra Binion: DISTILLE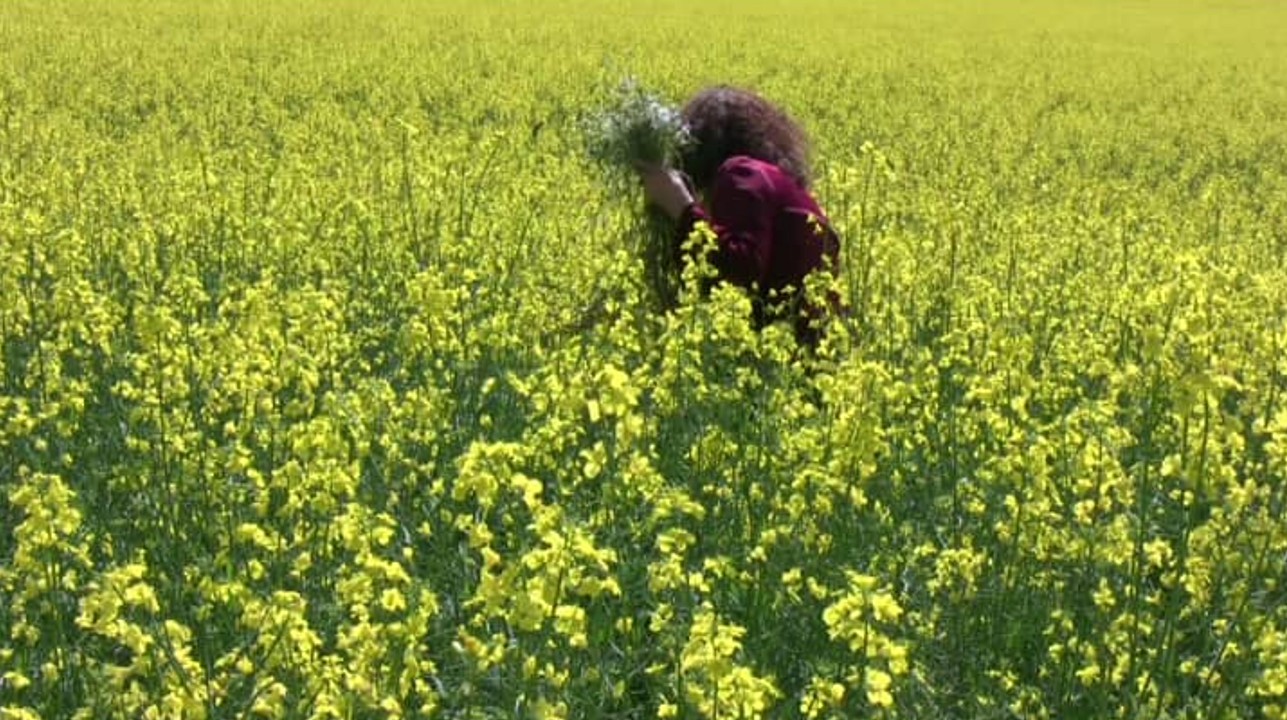 DISTILLE, as the title suggests, is the distillation of an existing work into a new form—specifically, Gustave Flaubert's Madame Bovary, a book that has been with Binion her entire life, embodying the conflicts of passion, religion, family, and fulfillment, brought to life through Flaubert's extraordinary capacity for detail and linguistic rhythm. DISTILLE is conceived as a multilevel path for the viewer to navigate a contemporary reconfiguration of the book. It is not a recreation of the original narrative structure, nor does it use any of Flaubert's language. Instead, it presents a constellation of images and scenes composed as an installation of evocative moments, impressions, and fragments—a remembering (re-membering) of the book in video, sound, photographs, objects, and scents, conjuring associations and poetic states without words. DISTILLE was sponsored by Harvestworks with funding from the Dew Foundation.
Sandra Binion is an interdisciplinary artist with training in classical ballet as well as fine arts. Binion began incorporating film and video into her performance pieces in the early 1980's and soon decided to pursue an MFA in filmmaking from from the School of the Art Institute of Chicago in 1992. Binion's work has since underwent a further expansion in the early 2000s beginning a serious practice of painting and digital photography. Binion's photographic work often focuses on details of surface, light, architecture and bodies—crystallizing, in a sense, the ongoing interests in site, space, gesture, and the choreography of the everyday. At present, video, photography, and painting have now become synergistic elements in multi-disciplinary thematic projects intended for exhibition.
((audience)): SOUND OFF
SOUND OFF is a salon and concert series of sound art and experimental music curated by ((audience)). It is an intimate performance series that connects audiences with composers, musicians, artists, and one another. The SOUND OFF Project was funded by the Department of Cultural Affairs via Harvestworks.
((audience)) is dedicated to the advancement of aural arts by providing wide distribution and new contexts for works by emerging and established sound artists and composers.