Events at 3LD Art and Technology Center
Monday June 4, 2007
A selection of performances by Garth Paine, Michael Atherton, Mari Kimura, Kinan Azmeh, Marc Battier, and Lori Freedman.
——-
Atmospheric Ripple – Garth Paine & Michael Atherton
The composition is a semi-improvised dialogue between the flute and live processing on the Capybara/Kyma System. The processing is driven by the material played on the flute, and so the performer enters into a semi-structured dialogue with the system – the ebb and flow of fluid, evolving lines are developed from overblown harmonics on the flute, occasionally brought to ground with full sonorous tones. The system has the ability to surprise and invigorate the flute player with interjections – each performance, although existing within a composed aesthetic takes on a unique temporal form.
Cyberdidj Australis – Garth Paine & Michael Atherton
For a recently designed telescopic didjeridu, Capybara and Wacom interface. The work explores the shifting fundamentals and overtones of the didjeridu and the possibilities of interactive synthesis. Traditional playing techniques are extended and morphed by and in response to electronic elaboration. The performers explore shifting drone material, vocalizations, and additive rhythmic patterns to create dramatic shifts in timbre, density and pulse.
Encounter – Garth Paine & Michael Atherton
The hurdi gurdi is an instrument rich in sonic potentials, from fluttering sympathetic strings to bold and substantial drones. In this work, the hurdi gurdi is acts as the catalyst for a wide range of electronic tapestries, derived from the acoustic input and augmented by synthesis in a dialogue that explores what it means to bring these widely divergent musical heritages into the same musical space. The work is a balance of defined potentials and carefully structured architecture, with a large dose of responsive improvisation.
Atter – Mari Kimura & Kinan Azmeh
Atter is an eclectic duo consisting of real-time interactive computer system and two acoustic performers, who originally come from far from each other geographically and culturally: Kimura from Tokyo, Japan, and Azmeh from Damascus, Syria. Atter is a kind of all-purpose holy rose water syrup commonly poured over many dessert recipes in Arab countries. The word "Atter" in English also means "poison", but in the contemporary urban slang it is listed as "absolutely perfect". So, in New York city where we meet, we settle with "all purpose portion" that's poured onto us, acoustic or electronic sound that we use as tools of our artistic communication. Both violin and clarinet are processed in real-time, and also interact with various snippets of sounds and loops that may viscerally evoke certain culture or ethnicity.
 AudioScan – Marc Battier
Audio Scan is one in a series of musical pieces based on nine paintings by Roberto Matta, well-known surrealist painter. I've had the privilege of working on this musical project with Matta's consent and support, and the sounds are all directly derived from his paintings: Areas of a painting were scanned and transformed into sound. The video, created by Ramuntcho Matta, Roberto Matta's son, is based on a few snapshots of the artist in his studio in Italy, where he died in 2002. AudioScan is a memorial to the late Roberto Matta.
xolf – Lori Freedman
To describe this music for the purposes of program notes submitted in advance of the actual performance would be an act of clairvoyance. A foreseer I am not. I am a musician who spends her life dealing with time in time. The music you will hear tonight is precisely that: a spontaneous capsulization of the moment's music within me, as accumulated over the past 49 years and filtered through a zillion channels of perception. This is my improvised music, created in the moment of its sounding.
About the Artists:
Garth Paine is internationally regarded as an innovator in the field of interactivity in new media arts. His immersive interactive environments have been exhibited in Australia, Europe, Japan, USA, Hong Kong and New Zealand. He has been part of the organizing and peer review panels for the International Conference On New Interfaces for Musical Expression (NIME) since it's inception and invited as guest editor of Organized Sound, a pre-eminent international journal on music technology published by Cambridge University Press. He has been selected as one of ten creative professionals internationally for exhibition in the 10th New York Digital Salon; DesignX Critical Reflections, and as a millennium leader of innovation by the German Keyboard Magazine in 2000. Dr Paine has been awarded the Australia Council for the Arts New Media Arts Fellowship at RMIT University in 2000, and The RMIT Innovation Research Award in 2002. He is one of 17 advisors to the UNESCO funded Symposium on the Future, a project focused on formulating a taxonomy of electronic musical instruments. In 2006 his innovative ensemble, SynC, with Michael Atherton, is one of only 20 international performance ensembles selected to perform Pompidou, IRCAM.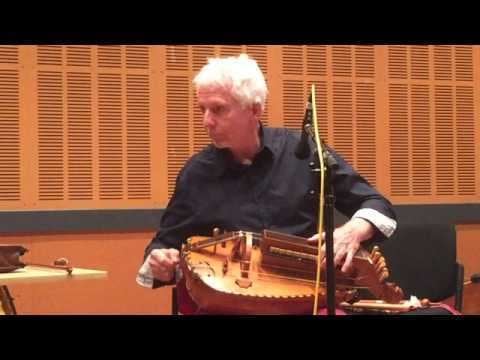 Michael Atherton is a composer and performer with broad experience in music for the concert hall, film, television and radio. He toured extensively throughout Asia, Europe, USA and Canada with Sirocco, the Atherton TableBand, and Southern Crossings, supported by Music Viva Australia. He has made numerous CD recordings, documentary film scores and television themes, including the station music for TVS. Atherton played with the Renaissance Players (1974-1981), Southern Crossings Ensemble (1986-1993) and is currently a member of SynC, an electroacoustic duo. Performance highlights include the Aurora Festival 2008; New Interfaces for Musical Expression (NIME) opening concert, New York, June 2007; and NIME/Agora Resonances, Paris, 2006.
Hailed by The New York Times as "a virtuoso playing at the edge," violinist/composer Mari Kimura is widely admired for her revolutionary extended technique "Subharmonics" and for the solo performances of diverse programs including her works with interactive computer music. She has won numerous awards both in her native Japan and in the U.S., and has been invited to international festivals around the world including Spring in Budapest, Other Minds Festival in San Francisco, International Bartok Festival, International Festival Cervantino in Mexico, International Symposium of Electronic Arts, ISCM World Music Days, and NIME at IRCAM, Paris. This September, Ms. Kimura will give the world premiere of Jean-Claude Risset's Violin Concerto with the Tokyo Symphony, composing her original cadenza in collaboration with Risset. Her solo album of violin and electronics including her own works will be coming out this summer from the Bridge Records. Ms. Kimura's works have been supported by grants including the New York Foundation for the Arts (NYFA), Jerome Foundation, Arts International, the Japan Foundation, Meet the Composer and the New York State Council on the Arts (NYSCA). Since 1998, Ms. Kimura has been teaching a graduate class in Computer Music Performance at The Juilliard School in New York City.
Born in Damascus, Syria 1976, Kinan Azmeh was the first Arab to win the first prize at the Nicolay Rubinstein international competition in Moscow, Russia, 1997.  A graduate of the Juilliard school and the High Institute of Music in Damascus, Mr. Azmeh is currently working towards his doctoral degree at the City University of New York. He has appeared as soloist and composer worldwide, including Tschikovsky Grand Hall in Moscow, Carnegie and Alice Tully halls in New York, Royal Albert Hall in London, The Kennedy Center in Washington DC, and the Damascus Opera house for its opening concert. Recordings include two albums with his Arabic-Jazz group HEWAR.
Marc Battier started to use computers in composition in 1970. His music often deals with the voice and with poetry and with painting. Battier has worked in computer music at Groupe de Recherches Musicales (France) as assistant to Francois Bayle, as well as at IRCAM (France. He is now involved in researching the history of Twentieth Century music technology. He is co-founder of Electroacoustic Music Studies Network (EMS-Network) and founder of Electroacoustic Music Studies Asian Network. He is currently professor of musicology and electroacoustic music at the University of Paris Sorbonne and head of the MINT research group.
With full throttle in both contemporary and improvised music streams, "musical revolutionary" Lori Freedman is known internationally as one of the most provocative and creative performers. Over forty composers have written bass clarinet music for her and her work has been recorded on 31 CDs, including Thin Air (Queen Mab Trio), ¿un moment donn? (thirteen solo improvisations, nominated for "Best Recording of Musique Actuelle", Prix d'Opus), and Huskless! (nominated for the "Most Outstanding Classical Recording" Prarie Music Award). She produced the solo concert There, in here, premiering seven new commissioned works for the event, and her Queen Mab Trio gave forty concerts during two European/North American tours. She is currently preparing solo performances for a new music video, Solor (Mode Records), in addition to collaborations with Frances-Marie Uitti, George Lewis, Mark Dresser and Fred Frith.
About EMF:
EMF's mission is to explore the new creative potential in the convergence of music, sound, technology, and science, and foster understanding of its benefits to the public. Addressing both artists and public, we organize concerts, festivals, symposia, and conferences in New York City and elsewhere. We present and commission innovative work, publish CDs and DVDs, support research, develop collaborative projects with partners and contacts worldwide, and maintain websites on the history and current practice of electronic music, thereby providing resources for creativity and encouraging the development and exchange of new ideas throughout the world. Through a powerful internet presence and global outreach, we view ourselves as a center and beacon for the empowerment of individual creativity and access to information and materials that foster understanding of the new roles that music can play in the world.
This performance is made possible in part with public funds from the New York State Council on the Arts, and with  support from the Argosy Contemporary Music Fund.
"Harvestworks brings together innovative practitioners from all branches of the digital arts and makes them available to artists, curators, and collectors."
About NYEAF: The New York Electronic Art Festival is produced by Harvestworks, the New York University Music Technology Program, and LEMUR: League of Electronic Musical Urban Robots, with support from New York University's Interactive Telecommunications Program, Eyebeam Art and Technology Center, the Columbia University Computer Music Center, Roulette, Electronic Music Foundation, 3LD Art and Technology Center, Lower Manhattan Cultural Council, and the Institute of Electronic Art. Additional support is from the National Endowment for the Arts, the New York State Council on the Arts, the Mary Flagler Cary Charitable Trust, mediaThe foundation, the Lower Manhattan Cultural Council's Swing Space @ 38 Park Row, the Experimental TV Center Presentation Program, Cycling 74, Tekserve and Newmark Knight Frank. Lower Manhattan Cultural Council's Swing Space.
NYEAF is a Harvestworks 30th Anniversary Event.  A highlight of the festival is the 2007 International Conference on New Interfaces for Musical Expression (NIME 2007), now in its 7th year, convening for the first time in New York.
About Harvestworks: Harvestworks is a nonprofit Digital Media Arts Center that provides resources for artists to learn digital tools and exhibit experimental work created with digital technologies. www.harvestworks.org