This new work by artist Joseph Morris uses computer-controlled electromagnets to turn inverted wine glasses into sonic resonators, similar to the vibrations created when you rub your finger along the rim of a glass. However, the sonic composition here is activated by a cosmic ray muon detector embedded in the piece. These fundamental subatomic particles, created through collisions with extrasolar cosmic rays, move nearly at the speed of light and pass through almost any material, including our bodies. Scintillator illuminates and sonifies these events as they pass through the space in this room.
Location: The Workings of Media [art and artists] at the Harvestworks Art and Technology House
May 8th – August 8th, 2021: Building 10a, Nolan Park, Governors Island
Open to the public on the Weekends – Saturday and Sunday from 11 am to 5 pm. Ticketed Entrance
Scintillator was produced with the assistance of experimental physicist and Dean of Liberal Arts and Science at Pratt Institute, Helio Takai, using circuitry gifted by Carlos Scorzato of the Brazilian Synchrotron Radiation Facility.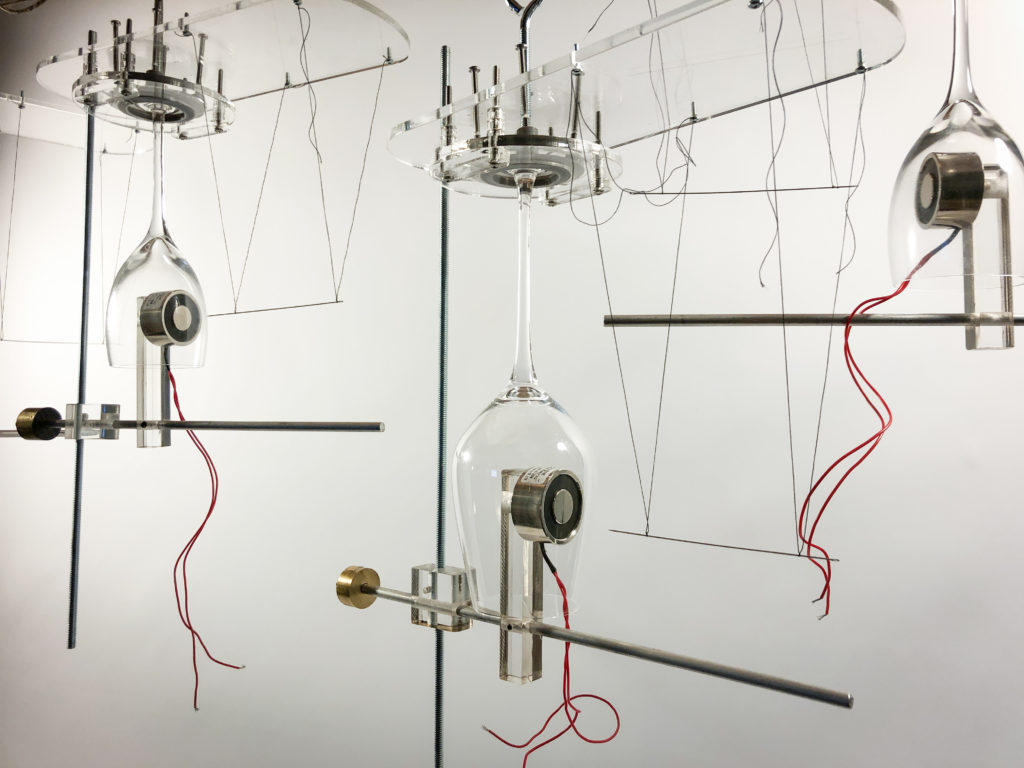 BIOS
Joseph Morris is a transdisciplinary artist based in Brooklyn. He is an expert craftsman and coder who believes in the possibilities enabled through the integration of technology in the arts.
His emotive machines have been on exhibition in New York, Chicago, Brazil, New Haven, New Mexico, and Arizona by galleries and organizations such as Harvestworks, Chazan Family Gallery, Creative Arts Workshop, Gibney Dance Center, 4heads, ACRE Projects, Oi Futuro and more.
Joseph Morris has been working with electronics in his art since 2006. He began by taking things apart and putting them back together to make sculptural collages with gears, motors, and moving parts. He started experimenting with software and coding in 2007 and has been integrating technology into his craft ever since. Joseph is a self-taught programmer, technologist, and prototyper.
He is a recipient of the 2017 New York Foundation for the Arts Fellowship in Electronic and Digital Media, as well as a 2017 New York State Council on the Arts Electronic Media grantee. In 2015, Joseph was a Harvestworks New Works Resident and recipient of Pratt Institute's Faculty Development Grant. He holds an MFA in Art and Technology Studies from The School of The Art Institute of Chicago and a BFA in Sculpture from SUNY Purchase College. He is currently an assistant professor and works in rapid prototyping at Pratt Institute, Industrial Design, and teaches classes in physical computing, prototyping, and digital fabrication processes (laser cutting, 3D printing and CNC milling) and interdisciplinary making.
www.instagram.com/emotivemachine
"This piece is produced with the help of Dean of Liberal Arts and Science at Pratt Institute and experimental physicist, Helio Takai, and Carlos Scorzato of the Brazilian Synchrotron Radiation Facility."