Harvestworks is pleased to partner with NowNet Arts and Experimental Intermedia to provide a network arts studio for artists (composers, musicians and visual artists) to participate in the NowNet Arts Hub. Artist who are interested in participating should contact Sarah Weaver at <info@nownetarts.org>.
Full Schedule March-May 2022
March 4: 12pm-1:30pm EST Rehearsal
March 5: 10:30am-12pm Rehearsal, 12pm-1pm Performance, 1pm-1:30pm Post-Performance Discussion
April 1: 12pm-1:30pm EDT Rehearsal
April 2: 10:30am-12pm Rehearsal, 12pm-1pm Performance, 1pm-1:30pm Post-Performance Discussion
May 6: 12pm-1:30pm EDT Rehearsal
May 7: 10:30am-12pm Rehearsal, 12pm-1pm Performance, 1pm-1:30pm Post-Performance Discussion
RUN TIME OF PERFORMANCE: one hour
• LOCATION: Online at the NowNet Arts Venue
NowNet Arts Hub is an audiovisual contemporary network arts large ensemble and research group in partnership with Experimental Intermedia and Harvestworks. Network arts involves live performance via the internet by artists in different geographic locations. The Hub utilizes network arts platform technologies including JackTrip, Zoom, OBS, and Vimeo Live. Artists and technologists participate in large ensemble pieces directed by Sarah Weaver including composition, improvisation, and gestures, with visual director Katherine Liberovskaya, and can present their own chamber pieces. Additionally the participants work together on research and developments for emerging network arts platform technologies.
The Open Call is for contemporary musicians, sound artists, live video artists, live visual artists, and network arts technologists. Participants connect from their own home, studio, venue, or at Harvestworks. Minimum tech equipment requirements are ethernet (wired internet), 10Mbps or more for internet bandwidth, Linux/Mac/or Raspberry Pi computer, audio interface, microphone, headphones, webcam or external camera, optional green screen.
The Hub will rehearse and perform monthly February through May, then October through December. Participants commit to the Friday and Saturday times in order to perform that month. New participants will have an on-boarding session to set up the technology. Performances take place in the NowNet Arts Virtual Venue.
The Hub currently operates on a "By Donation" admission basis for the performances and this contributes to the operations. The group is in development for artist and research funds towards future projects.
Contact: Sarah Weaver <info@nownetarts.org>
About NowNet Arts
NowNet Arts Inc. is based in New York City and works internationally in producing and presenting contemporary network arts works, technologies, education programs, and publications. Network arts utilizes the Internet and related technologies as an artistic medium for works created for this platform. The field of network arts work has accelerated in recent years with the ability to produce concert-quality multichannel audio and video with low latency (delay) for live collaboration via the internet, together with renowned contemporary artists pioneering work for this medium. NowNet Arts is synthesizing the work into the wider professional sphere through programs such as festivals, conferences, seasonal programming, technology development, education activities, publications, venue development, and social purposes in peace building, bridging the digital divide, and diversity in contemporary arts.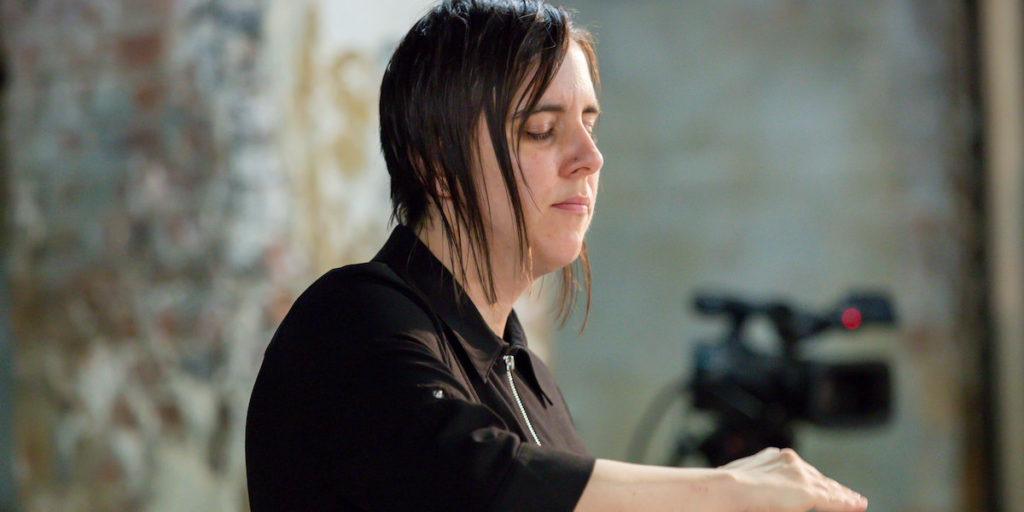 NowNet Arts Inc. is directed by network arts composer Sarah Weaver, a pioneer in the field for 16 years with artistic and socially-themed ensemble projects integrating classical, jazz, world, electronics, and multimedia influences, utilizing network as compositional strategy for the medium. Weaver has worked closely with Mark Dresser, Chris Chafe, early works with Pauline Oliveros, and many collaborators. Projects have included collaborations with organizations such as the United Nations, NASA Kepler/K2 Mission, and ensembles in many international locations including New York, Abu Dhabi, Banff, Beijing, Belfast, Florence, Jerusalem, Montreal, Nairobi, Rensselaer, San Diego, Seattle, Seoul, Stanford, and Zurich.
Links
https://nownetarts.org/festival-2021
https://nownetarts.org/nownet-arts-ensemble
This program is made possible by the New York State Council on the Arts with the support of the Office of the Governor and the New York State Legislature.