Renowned artist Stephen Vitiello will begin the season for the Ear Hut, the listening station created by Miya Masaoka located on the Governors Island waterfront at Building 12.
May 28th – October 30, 2022. Location: Waterfront at Building 12 Governors Island
Open to the public every day during public hours.
One string left and a head for the sea was made with an Edsel Martin Dulcimer and a multi-loop device, recorded in real-time.
Artist Statement: The dulcimer was one of a very few things I wanted to save after we cleared out my mother's house. The instrument had been banging around a shelf or two for most of my childhood. I'd never played it and I'm not sure any of us had but it was a bit of an iconic object in the house, with the notable figurehead carved into the top. As the title notes, only one of four strings remained on the instrument. I did bring it in to a luthier for some more care and attention soon after.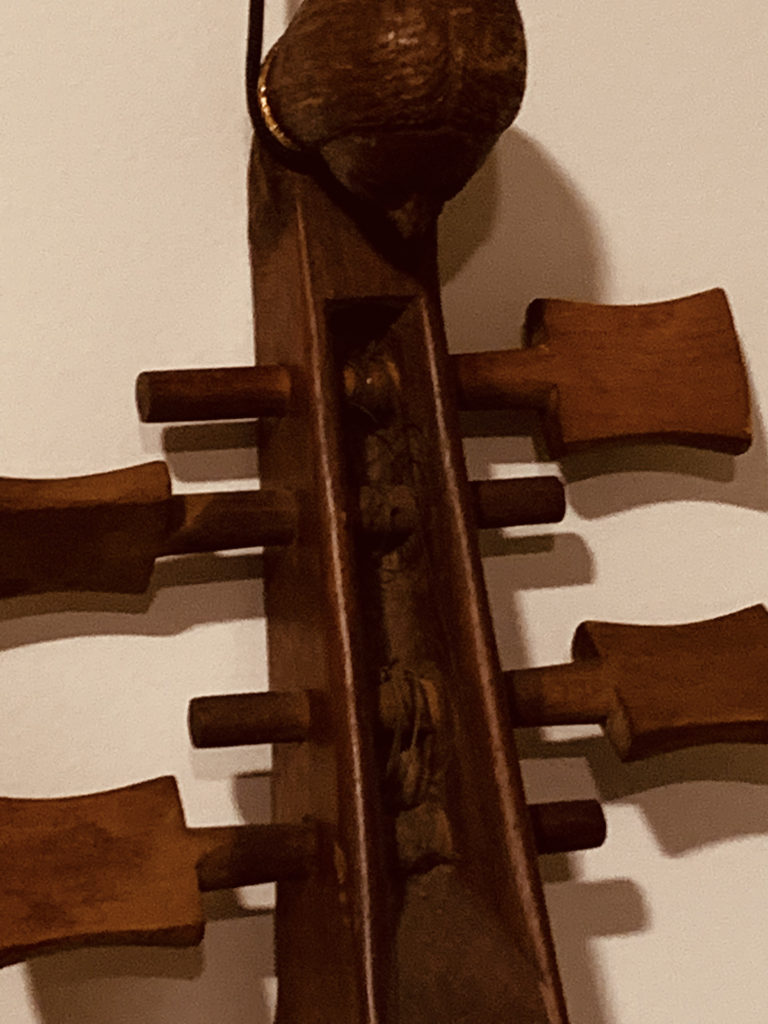 One string left was first included in LeSon7, an exhibition of sound works presented in Paris (2021) and then Buenos Aires (2022).
• BIOS
Stephen Vitiello is an electronic musician and media artist. CD, LP and digital releases have been published by New Albion, Sub Rosa, 12k, and Room 40. His sound installations and multi-channel works are in the permanent collections of the Museum of Modern Art, the Whitney Museum and the Museum of Contemporary Art, Lyon. Over the last 30 years, Vitiello has collaborated with such artists and musicians as Pauline Oliveros, Ryuichi Sakamoto, Taylor Deupree, Joan Jonas, Tony Oursler, Steve Roden and Scanner. Vitiello has been awarded a Guggenheim Fellowship for "Fine Arts," a Creative Capital grant for "Emerging Fields" and an Alpert/Ucross Award for Music. Originally from New York, Vitiello is now based in Richmond, VA where he is a professor of Kinetic Imaging at Virginia Commonwealth University.
PRESS QUOTES
"What more can you ask of a work of art than that it alter your breath — that it first make you aware of your own breathing and then slow it, shape it, sculpt it? Stephen Vitiello's show at MC is revelatory in that most visceral way. It doesn't just appear before you but instead engenders a kind of reciprocal occupation: You enter its realm and, in turn, the work makes its way into both body and mind." "Rattle and hum: Stephen Vitiello's 'duets'" Leah Ollman, Los Angeles Times, August 22, 2008
"Electronic musician and sound artist Stephen Vitiello transforms incidental atmospheric noises into mesmerizing soundscapes that alter our perception of the surrounding environment. He has composed music for independent films, experimental video projects and art installations, collaborating with such artists as Nam June Paik, Tony Oursler and Dara Birnbaum. In 1999 he was awarded a studio for six months on the 91st floor of the World Trade Center's Tower One, where he recorded the cracking noises of the building swaying under the stress of the winds after Hurricane Floyd. As an installation artist, he is particularly interested in the physical aspect of sound and its potential to define the form and atmosphere of a spatial environment."
Fondation Cartier pour l'art contemporain catalog for the exhibition
Ce qui arrive/Unknown Quantity, 2002.
LINKS
http://www.stephenvitiello.com/
https://stephenvitiello.bandcamp.com/
@ stephenvitiello (on Instagram)
PAST INTERVIEWS AND PRESS COVERAGE
https://www.wnyc.org/story/155908-the-sounds-of-the-world-trade-center/
https://bombmagazine.org/articles/steve-roden-and-stephen-vitiello/
ABOUT The Ear Hut + Listen Ahead
The Ear Hut + Listen Ahead, is a listening station created by Miya Masaoka. The Ear Hut is a listening space, a contemplative space that directs the attention of the viewer towards an awareness of their sense of listening over their sense of sight, and how this shift in emphasis might be experienced in an impactful way. There are Ear-Dows rather than windows that line the walls, and these ear-level openings encourage a listening experience of the mixing of sounds of the interior and exterior, allowing sounds from the outside soundscape to mix with the embedded sounds emanating from hidden loud speakers in the bench. The focus on active listening gently alters the experience for the listener, and encourages a perception and way of being in the world. The public is invited to sit, watch and listen to the active soundscape of the Governors Island waterfront and the embedded compositions coming through the Ear-Dows.