NEW PROJECT DEMOS with Peer Bode and René Barsalo 
MONDAY OCTOBER 19, 2009, 7PM (Free) at HARVESTWORKS DIGITAL MEDIA ARTS CENTER
As part of the 2009 New York Electronic Art Festival, Harvestworks presents the fourth in a series of New Project with presentations by Peer Bode and René Barsalo.
Peer Bode will give a presentation of works and projects from the artist-in-residence program of the Institute for Electronic Arts (IEA), Alfred University, Alfred, New York. Bode is a second-generation American electronic video artist. He is associated with the New York, Oswego and Alfred schools of new media making. Peer is represented in "Surveying the First Decade, Video Art and Alternate Media in the United States." Peer's work presents spaces, times and transitions that are giddy, excessive, autonomous and poetic specifically through the synthesis of audio and video signals.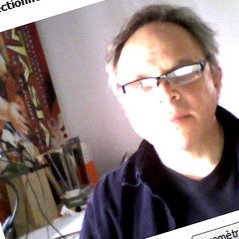 René Barsalo is the director of the Metalab, SAT research department in immersive media and audiovisual transmission over next generation Internet networks. He will present some of the key points of innovations at SAT and how, through several activities, they were able to demonstrate the innovation and economic value of technological arts to the governments and the private sector. René will also talk about the UrbanHub vision, SAT proposition to transform cultural centres into a network of interconnected public spaces. Barsalo has become one of Canada's most influential analysts and activists in the world of digital culture. One of the founders of the Forum des Inforoutes et du Multimédia and the Alliance NumériQc, he is a dedicated lecturer, an entrepreneur and an insightful witness to the cultural changes brought in by the digital age.
The New York Electronic Art Festival is produced by Harvestworks in partnership with Arts>World Financial Center, Roulette and New York University with funds provided by the National Endowment for the Arts as part of American Masterpieces: Three Centuries of Artistic Genius, the New York State Council on the Arts, the New York City Department of Cultural Affairs, mediaThefoundation, Etant donnés: The French-American Fund for Contemporary Art, the Québec Government Office in New York, Electronic Music Foundation, the Experimental TV Center Presentation Funds and the Institute for Electronic Art and the Paula Cooper Gallery. Corporate sponsorship is provided by Tekserve: the Apple Specialists, Newmark Knight Frank, Original Sin and Cycling74.