UnStumm (https://unstumm.com/) is a project for real-time film and music (Echtzeitfilm) for cross-disciplinary and cross cultural collaboration between visual artists and musicians from Germany and other countries. It aims to create an environment of cultural and creative exchange, where a common complex artistic language is invented and used to communicate narratives, and textures, colliding, combining, and attracting worlds of sight and sound. Since 2016 UnStumm has performed in 12 countries worldwide. Collaborations have taken place with more than 65 live visual artists, musicians, and dancers. In their audiovisual live performance, they will use live electronics and moving image for an immersive experience. Over the past years, UnStumm has collaborated with Seth Cluett on several telematic augmented reality performances. This performance will be the first in-situ collaboration between UnStumm and Seth Cluett.

After the performance, UnStumm will present their augmented-reality app and platform UnStumm – Augmented Voyage (https://unstumm.com/augmented-voyage/). This app enables real-time telematic augmented reality performances with video, movement, and sound.
Location: Harvestworks Art and Technology Program Building 10a, Nolan Park, Governors Island
Date/Time: Saturday September 9, 2023 @ 3:30 pm
FREE
https://www.facebook.com/unstumm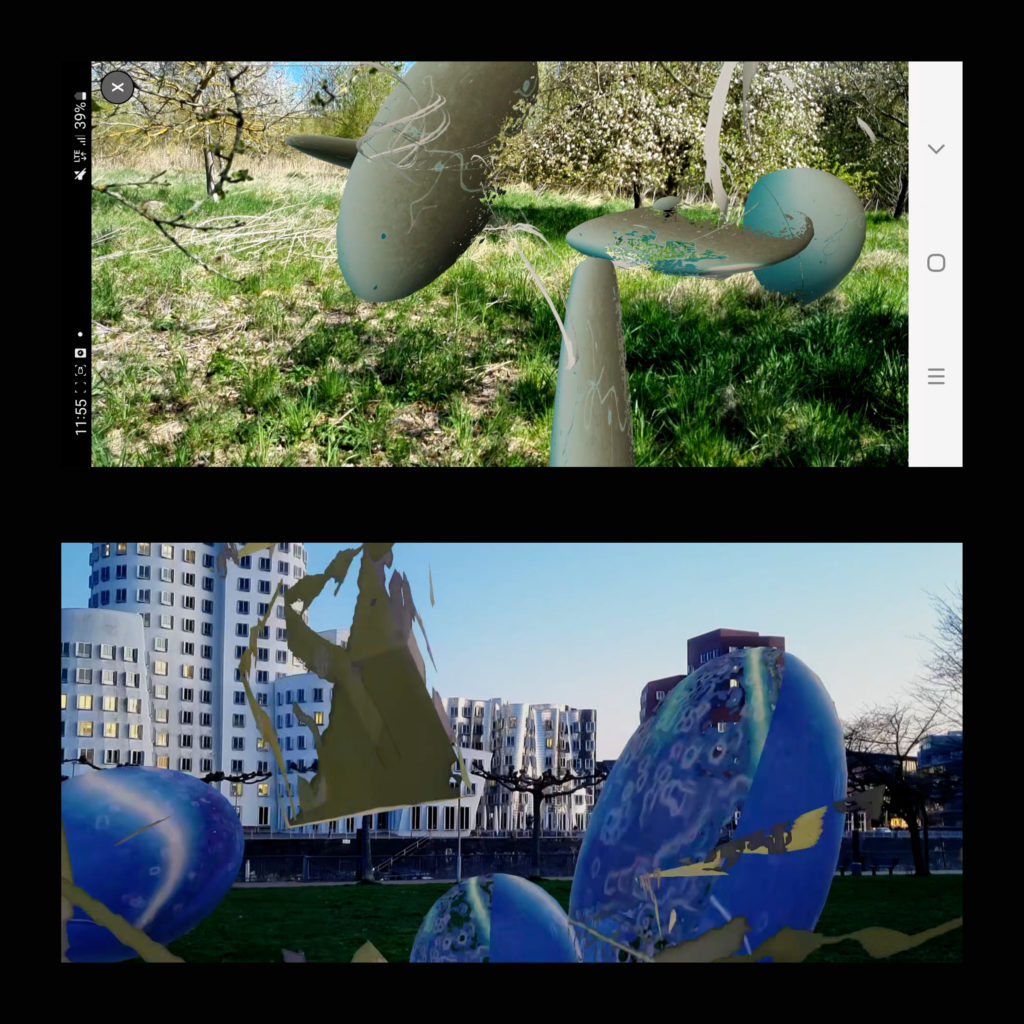 BIOS
ALOCIN NIEH is a sound artist, guitarist, composer, researcher in the field of music aesthetics and cybernetics. He professor for digital creation and artistic director of the studio for electronic music at the University of Music Lübeck. His work is determined by the interaction of sound, space, light, movement and the emergent dynamics of aesthetic systems. In his artistic work he uses physical and electronic extensions of synthesizers and electric guitar, sound installations with motors/video projections/light, cybernetic human-machine interaction with interactive A.I. music systems, augmented reality, telematic real-time art, ambisonic sound projection, instrument making, conceptual compositions. Intermedia works with video art, dance, literature and other art forms. The interdisciplinary collaboration with many different artists* from music and also from video art, dance, theater, literature, painting and many more play a central role in his artistic work. With the support of the Goethe-Institut and many other institutions, his works have been realized in more than 30 countries in North America, South America, Africa, Asia and Europe. His artistic work is documented on over 30 CD, tape and vinyl publications on international labels such as Clean Feed. He has been awarded many different prizes and grants for his work. In the field of sound art and improvised music he has collaborated with many internationally renowned artists: Max Eastly, Evan Parker, Miya Masaoka, Axel Dörner, Ute Wassermann and many more. Presentations of his work have taken place at MaerzMusik Festival (Berlin), Ars Electronica (Linz), Moers Festival, A L'ARME! FESTIVAL (Berlin), Super Deluxe (Tokyo), Sonica Festival (Glasgow), Experimental Intermedia (New York) and many more.
AIDUALC ZTIMHCS
Artist's Statement "My work starts where the media intersect. I am not interested in the modernity of technology as such but in its capacities for creating new imaginary dimensions. My arrangements constantly assume temporary states, reject and re-invent themselves, exploring the space-time continuum, rendering visible and questioning its borders. They investigate the limitations of media arrangements and modes of participation." As an international media artist, AIDUALC ZTIMHCS explores boundaries: Limits of perception, real and imagined barriers, liquid processes, body discourses.She explores paradigms of media translation – as a solo artist and in collaborative transmedia projects (dance | performing arts | music | visual art | philosophy). She uses sculpture and projections, multidimensional drawing, (live) moving image, AI and food – in real space, virtual and augmented reality to explore new forms of sound, space and experience. Using LiveMovingImage in real time on moving sculptures, she opens up the traditional video projection to an unfolded multi-dimensional spatial projection – her UnFoldedScreen.Exploring socio-urban fabrics, challenging hegemonial perception, sustainability, synaesthesia, identity in virtual and real space, re- vs. interactivity, inter- and transmediality, machine learning, artificial intelligence are main topics of her current artistic research. By passing through temporary stages, by discarding and re-inventing themselves, her pieces explore oscillating stages of being and non-being, of existence inside and outside the image. Relying on the spectators to trigger them, many of her pieces discuss the extent and possibilities of participation.
She is an internationally active artist and educator – won numerous awards and nominations – is present in international public and private collections.
SETH CLUETT is an artist and composer whose work ranges from photography and drawing to video, sound installation, concert music, and critical writing. His "subtle…seductive, immersive" (Artforum) work has been characterized as "rigorously focused and full of detail" (e/i) and "dramatic, powerful, and at one with nature" (The Wire). Exploring the territory between the senses, Cluett's works are marked by a detailed attention to perception and to the role of sound in the creation of a sense of place, the workings of memory, and the experience of time. His research interests and critical writings investigate embodied cognition, sound in virtual and augmented reality, the media history of the loudspeaker, the history and documentation of sound in art practice, and architectural acoustics.
His work has been presented internationally at institutions and festivals such as Kill Your Timid Notion at Dundee Contemporary Arts in Scotland; the Ars Electronica Festival and Alte Schmiede in Vienna; the 10th Rencontres Internationales, Palais de Tokyo, Main d'Oeuvres, and GRM in Paris; Hebbel am Ufer Theater and Staalplaat in Berlin; the Osage Art Foundation/October Contemporary in Hong Kong; The Whitney Museum, MoMA PS1, The Kitchen, Issue Project Room, Eyebeam, and Audio Visual Arts in New York; the Institute for Contemporary Art, Non-Event, and Mobius Artist Space in Boston; the Betty Rymer, Heaven, Artemisia, and Deadtech Galleries in Chicago; as well as Swarm Gallery in Oakland, CA and the Deep Listening Space in Kingston, NY. He has participated in dance and theater works with DD Dorvillier/Human Future Dance Corp, Stephen Petronio Company, Helene Lesterin/Atlas Dance, and Jen Mesch.
Cluett has published book chapters for MIT Press and Rowman & Littlefield, articles for Tacet Revue, BYPASS, Shifter, Intransitive, The Open Space Magazine, Leonardo Music Journal, 306090, Earshot, and the Journal of the Acoustical Society of America and his work is documented on Errant Bodies Press, Line, Radical Matters, Sedimental, Crank Satori, BoxMedia, Stasisfield, and Winds Measure Recordings. The recipient of grants and awards from The Foundation for Contemporary Art Emergency Fund, Meet the Composer as well as the Andrew W. Mellon, Naumberg, and Malcolm Morse Foundations, he holds a BM in music composition from the New England Conservatory of Music, an MFA in electronic art from Rensselaer Polytechnic Institute, and a doctorate in music composition with a graduate certificate in Media & Modernity Studies from Princeton University. Cluett is on the composition faculty in the Department of Music Columbia University where he is Director of the Computer Music Center and Assistant Director of the Sound Art MFA Program. Since 2017 he has served as Artist-in-Residence at Nokia Bell Labs.