Start with a Free Workshop!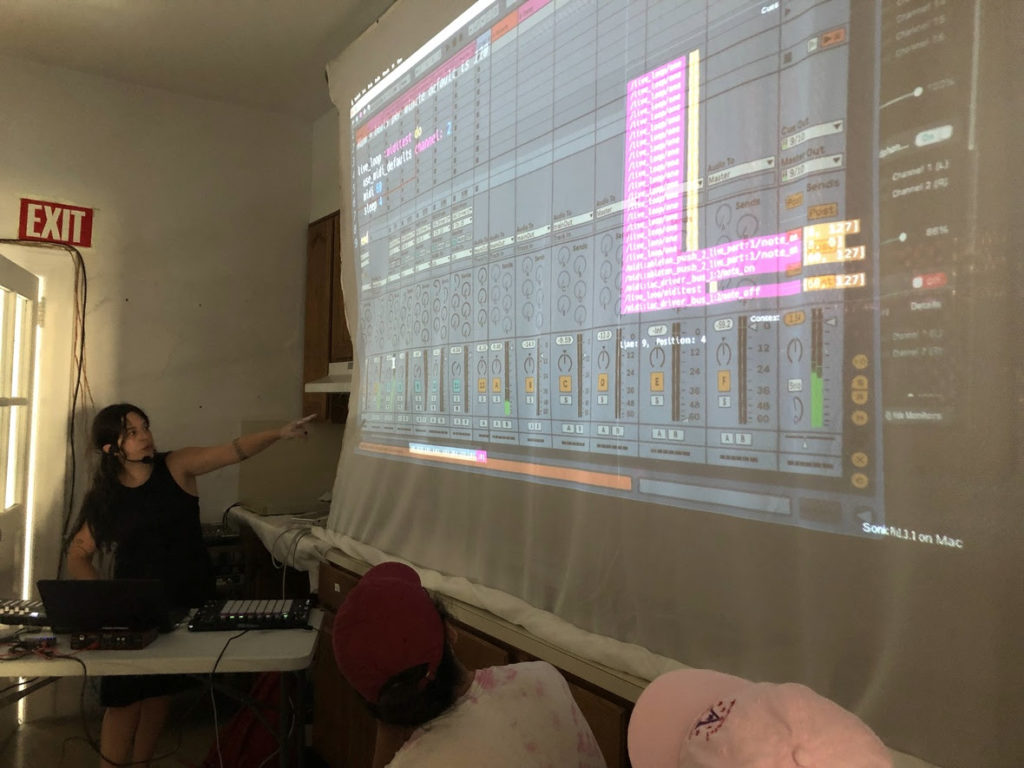 Saturday September 10, 2022 from 1-3pm. This hands-on workshop by artist Melody Loveless is an introduction to using Sonic Pi, a live coding synthesizer where users write code to generate music. Participants are highly recommended to bring their own laptop (with Sonic Pi already installed) and headphones. Limited laptops will be available for participants to share. FREE with Sign Up.
LOCATION: Harvestworks Art and Technology Program, Building 10a, Nolan Park, Governors Island.
… and end with a tour of Fluid
Special tour for Artists Day
Saturday September 10, 2022 @ 3:30pm. Meet the Artists with Director Carol Parkinson in a tour of the exhibition that will highlight the works of artists Eva Davidova, Kristin Lucas, and Viv Corringham. FREE.
Fluid: an Art and Tech Exhibition
August 27 – October 30, 2022. Fluid – An Art and Tech Exhibition
Major new media artworks by Kristin Lucas and Eva Davidova (New York State Council on the Arts – New Technology awardees) and Viv Corringham, Su Hyum Nam, and Allison Berkoy (Harvestworks Artists in Residence). 3D sound, web-VR and audience participatory immersive installations.
LOCATION: Harvestworks Art and Technology Program on Governors Island. Building 10a, Nolan Park, Governors Island. Open to the public on weekends, 11am-5pm.
The Ear Hut + Listen Ahead, a listening station created by Miya Masaoka. On the river's edge at Building 12, visit The Ear Hut, a contemplative space and listening experience featuring a new composition by acclaimed sound artist Stephen Vitiello. Experience the mix of sounds from the outside soundscape to the embedded composition coming through the Ear-Dows. Weekends 11-5pm.
Upcoming this Fall
Harvestworks participates in the 2022 NYU – IRCAM Forum. The Fall 2022 IRCAM Forum will be held at New York University (NYU) and hosted by the NYU Music Technology and Music Theory & Composition programs from September 30 to October 3, 2022. At Harvestworks, Peter Traver, Kamari Carter, Hanae Azuma and Trevor Van de Velde will receive Workspace Residencies and show their work during the Forum.
New Video on YouTube
Tune in to our latest upload – a comprehensive review of Listening & Seeing, our Spring Art and Tech Exhibition. This 8 minute video includes interviews with the artists and clips from the works in the exhibition.
Yes – I would like to support Harvestworks' adventurous projects in art and technology! Pick your color level and DONATE NOW!
Harvestworks' mission is to present experimental sound and visual artworks created in collaboration with our Technology, Engineering, Art and Music (TEAM) Lad. The Harvestworks T.E.A.M Lab supports the creation of art works achieved through the use of new and evolving technologies and provides an environment for experimentation with project consultants, technicians, instructors and innovative practitioners in all branches of the electronic arts. Our programs are made possible with funds from New York State Council of the Arts with the support of Governor Andrew Cuomo and the New York State Legislature, the National Endowment for the Arts, the NYC Dept. of Cultural Affairs, Aaron Copland Fund for Music, Marta Heflin Foundation, mediaThe foundation, The David and Sylvia Teitelbaum Fund, Inc., The James R. Robinson Foundation, The Andy Warhol Foundation for the Visual Arts, New Music USA's NYC New Music Impact Fund made possible by the Scherman Foundation's Katherine S and Axel G Rosin Fund, New Music USA's Organizational Development Fund, Foundation for Contemporary Arts, Materials for the Arts, Jerome Foundation, Pro Helvetia, The Shack Sackler Foundation, Teiger Foundation, Bloomberg Philanthropies, and the Friends of Harvestworks. Harvestworks receives support from the Henry Luce Foundation, the Willem de Kooning Foundation, and Teiger Foundation through the Coalition of Small Arts New York.