Commissioned Works/Special Projects is our program offering financial and administrative assistance to individual artists. We act as a fiscal agent for those artists applying for grants from federal and state programs and private foundations. Through this program we help develop collaborative projects between artists and assist with the presentation of their work. In 2016, we have sponsored the following projects:
Shelley Hirsch: B-O-O-K
B-O-O-K is an hour long choral work for fifteen singers musing on the subject – Book, and words/objects, connected to it ie.paper, bark, tree, body, spine, tablet, text, cuneiform, kunta which are all explored from sonic, etymological, multi-lingual personal and poetic perspectives. B-O-O-K was made with support from New York State Council on the Arts (NYSCA) via Harvestworks.
Watch Hirsch perform B-O-O-K.
Born and raised in Brooklyn, vocal artist, performer, composer, storyteller, interdisciplinary artist Shelley Hirsch has been pushing boundaries with her unique vocal art and performance work, drawing on her life experiences, her memory, and her vivid imagination for decades. Hirsch's multimedia performances, compositions, improvisations, electronic music pieces, sound installations, collaborations and radio plays have been presented worldwide.
William Hooker: Evidence (The Baldwin Suite)
Evidence is an hour-long multimedia tribute to novelist and social critic James Baldwin. It is choreographed by Juan Michael Porter and celebrates Baldwin's great works and adherence to his number one conviction: speaking truth to power, regardless of how painful. William Hooker was sponsored by Harvestworks with funding from the New York State Council on the Arts to create this composition.
Watch the performance of Evidence here.
Drummer, composer, and poet William Hooker has created works that range from jazz and "new" music to experimental genres. He has released over 70 CDs as a leader. Mr. Hooker has performed at the Brooklyn Academy of Music, Edgefest Jazz Festival, The Vision Festival, The David Rubenstein Atrium at Lincoln Center, The Wadsworth Atheneum, Queen Elizabeth Hall, The Walker Art Center, the first on MTV, The Kitchen, Roulette, Harvestworks and Real Art Ways. He has also presented his work at the JVC Jazz Festival, Montreal Jazz Festival, Vancouver Jazz Festival, CMJ Music Festival,Vilnius Jazz Festival, Experimenta Argentina,The Knitting Factory and the Victoriaville Music Festival.
Joe Diebes: Oyster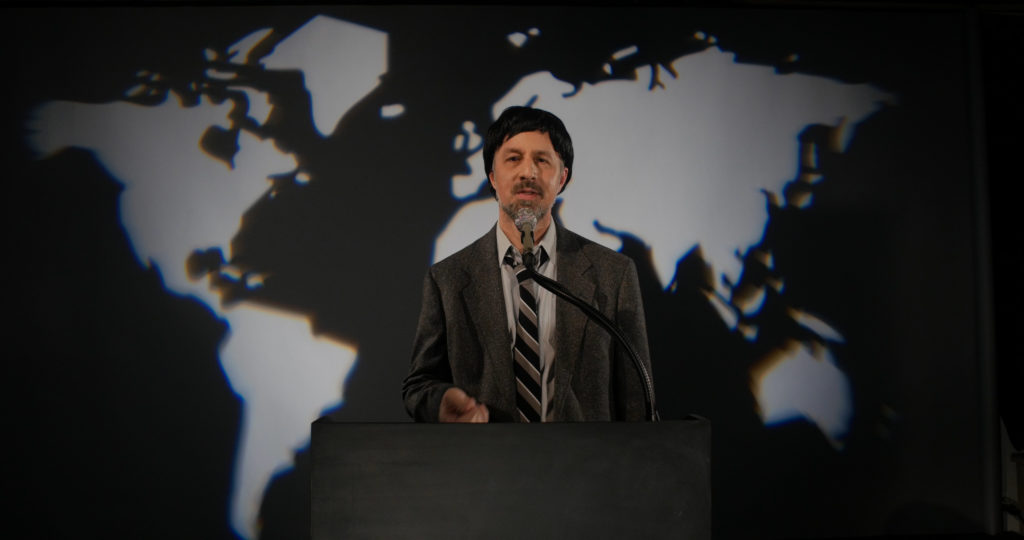 Oyster is an algorithmically generated sound and video installation that poetically explores the field of ethnomusicology (study of world musics) while using it as a lens to examine broader issues of globalization and a Western, technologically mediated, understanding of other world cultures. Oyster was made with support from New York State Council on the Arts (NYSCA) via Harvestworks.
Watch an excerpt of Diebes' Oyster.
Joe Diebes combines sound, visual media, and the human voice in multifarious ways. His sound installations, video, performances and works on paper have been exhibited in numerous galleries, museums, and public spaces including Paul Rodgers/9W (New York), The Hammer Museum, the Torino Winter Olympics, David Winton Bell Gallery (Brown University), Yuanfen Gallery (Beijing), Prix Ars Electronica and the Liverpool Biennial.
Lauren Petty: Why Why Always
Why Why Always is a new interdisciplinary performance which embraces a dynamic interplay between theater, dance, installation art, and technology by integrating live performers, multi-screen video, live-feed cameras, fabricated environments and a vibrant tapestry of sound. A hybrid work, Why Why Always explores the rapidly evolving relationship between man and machine, considering the multifarious effects of technology on our collective consciousness. The piece draws on a variety of sources, namely Jean-Luc Godard's prescient 1965 film Alphaville, a poignant and timely parable of societal alienation and dehumanization, set in a dystopian future controlled by a sentient supercomputer, where feelings (and the words that describe them) are not only against the law but considered obsolete. Using the film as a point of departure, Why Why Always, searches for the human, irrational and emotional amidst a landscape of mechanization, isolation and control. This project was made with support from New York State Council on the Arts (NYSCA) via Harvestworks.
Watch the trailer for Why Why Always.
Lauren Petty is a digital media artist working in video, film, sound, installation, interactive design and performance, she is a longtime collaborator of multi-disciplinary artist Shaun Irons. Their work has been exhibited in diverse locations in New York and internationally and was recently seen at BAM's Next Wave Festival, Abrons Arts Center, The Chocolate Factory, HERE, The Center for Contemporary Arts, Santa Fe, The Governors Island Art Fair, and was broadcast on PBS's Reel NY.
Margaret Schedel and Melissa F. Clarke: háček
háček presents a physical installation, VR experience, and printed data maps. It employs data to inform an immersive installation while positioning it's larger impact towards metaphors of networked landscape, security and wayfinding. The data used is taken from real network traffic logs, tracking hackers in real time as they race to be the first in line at the Shmoo Group website, pummeling the site with DDOS, port scans, and sneaky malware as they compete to be the first to get their hands on the prize. The valiant defenders deflect bots, cheats, and attacks at every turn as they try to keep the site online. háček is not just data visualizations or VR gaming in the formal sense—but more akin to abstractions and metaphorical art works that reflect the data, pieces potentially to be enjoyed entirely out of context. háček was sponsored by Harvestworks with funding from O'Reilly Media.
Margaret Schedel is a composer and cellist specializing in the creation and performance of ferociously interactive media whose works have been performed throughout the United States and abroad. Her research focuses on gesture in music, the sustainability of technology in art, and sonification of data. As an Associate Professor of Music at Stony Brook University, she serves as Co-Director of Computer Music and is the Director of cDACT, the consortium for digital art, culture and technology.
Melissa F. Clarke is a Brooklyn based interdisciplinary creative whose work often employs generative and interactive custom-programmed environments. Melissa is an educator, designer, and an artist working at the intersections of research, science, architectural and user experience. She extrapolates research into multimedia installations, generative video and sound sculptures, performances, printed images and experiential design work. Clarke is a graduate of NYU's ITP program with a Tisch Fellowship. Clarke has been a lecturing professor at SUNY Stony Brook University teaching Interactive Installation Art, Introduction to Computational Art, Animation and Web Art. And, she has been a practitioner of experiential and user experience design for several years.