The Harvestworks New Works Program is pleased to announce our 2021-22 recipients. The recipients are commissioned to create a new work in the Harvestworks TEAM (Technology, Engineering, Art and Music) Lab. The applications were reviewed by Curator Lauren Rosati, media artist Andrew Demirjian and Executive Director Carol Parkinson
Viv Corringham: Nostalgia for the Here and Now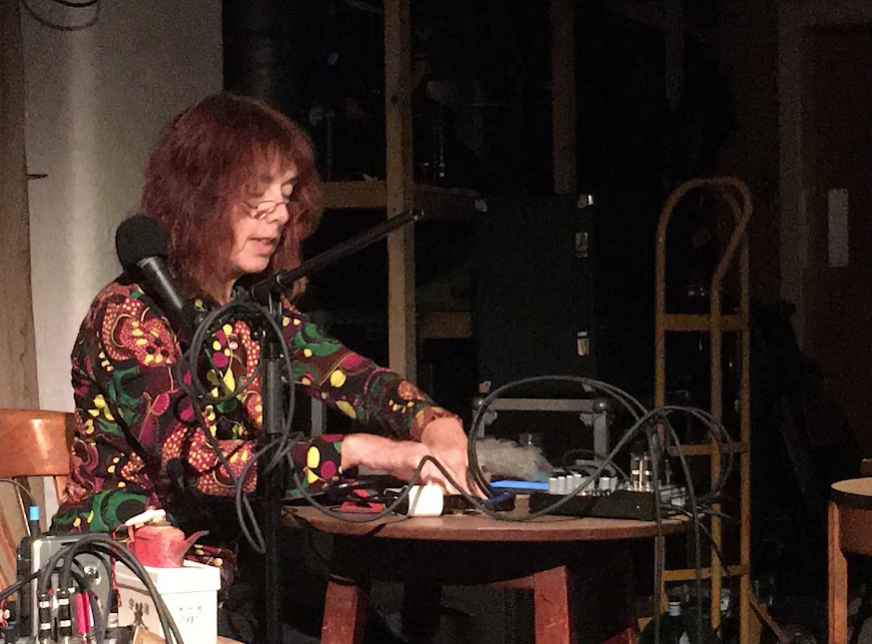 Nostalgia for the here and now is pervasive: a feeling that what we have is unsustainable and disappearing. This installation combines environmental sounds, spoken or sung lists of loved possessions along with objects found in the streets: an archaeological trove of relics from our present. As if someone from the future has gathered together memories of our soundscape, along with our quotidian objects, both valued and discarded, as a record of how we lived and what we cared about.
Viv Corringham is a New York based British vocalist, composer and sound artist, active since the late 1970s. Her work includes concerts, soundwalks, workshops and installations, exploring people's sense of place and the link with personal history and memory. She has received international recognition and her work has been presented in twenty six countries on five continents.
Ivana Dama: Command and Control
Command and Control is a project that explores the idea of playing a musical instrument with your eyes— using custom pupil tracking software to move motors that play the sound. The project reflects on the power that we have in eye movements that we often take for granted. The goal is to focus on involuntary blinking and to realize that our control is limited and that there is only so long that we can go without blinking.
Ivana is an artist and researcher currently working and living in Los Angeles. She graduated from UCLA's School of Arts and Architecture in the Design Media Arts and Digital Humanities department. Her art practice includes audio-video installations, robotics, web projects, as well as music performances. Her work focuses on themes of sound and space ranging from microscopic, architectural, and satellite scale. She has multiple awards including the John Baldessari Family Foundation; the Stiefel & Dockweiler Foundation; and the Dean's Prize for Excellence in Research.
Miya Masaoka: New Multi-Channel Installation
Miya's multi-channel installation will be presented in the 3-dimensional speaker structure in the Immersive Room at Governor's Island in 2022. Sound will be recorded and diffused to a unique listening experience.
Miya Masaoka is an American composer, sound artist and musician. Her work explores bodily perception of vibration, movement and time, while foregrounding complex timbre relationships. She has created a body of work that encompasses interdisciplinary sound art, spatialized sound installations, hybrid acoustic/electronic performance, new Noh operas, choirs, mapping movement of insects, and three-dimensional scores.
BodyMouth is a tool built on the open source project Pink Trombone that maps language and bodies in striking ways. Dancers wear sensors on various body parts: when moving in specific ways, the sensors trigger all of the letter sounds the human mouth can produce. The dancer sounds out words by performing gestures in sequence, triggering each word phoneme-by-phoneme. As if their body is turned into a mouth. Mustatea will develop a series of "dance texts" with this tool that challenge feminine myths.
Kat Mustatea is a playwright and technologist whose language and performance works enlist absurdity, hybridity, and the uncanny to dig deeply into what it means to be human. She has written plays in which people turn into lizards, a woman has a sexual relationship with a swan, and a one-eyed cyclops tries to fit into Manhattan society by getting a second eye surgically implanted in his head.
Replica is a multi-channel video installation that digitally replicates a human cognitive system in a 3D space. The GAN-generated, dream-like landscapes are converted into volumetric images and also sonified in Max/MSP/Jitter to provide an alternative sensory experience of memories. The volumetric images explore possibilities in digital technology as a companion cognizer by envisioning technology's autonomous change, development, and evolution.
Su Hyun Nam is an interdisciplinary media artist and researcher working at the intersection of art, technology, science, and philosophy, exploring a nonlinguistic, experiential, and affective relationship with digital media. Her work, including experimental video, interactive media, 3D game art, and media performance, has been exhibited nationally and internationally at venues from Spain, UAE, Greece, and Singapore to South Korea. Su Hyun Nam earned an M.F.A in art and technology studies from the School of the Art Institute of Chicago and a Ph.D. in Media Study from the State University of New York at Buffalo. She is currently an Assistant Professor in the Department of Transmedia and the director of the computer gaming program at Syracuse University.
Stephanie Rothenberg & Suzanne Thorpe: Tending Ostreidae: Serenades for Settling
Tending Ostreidae: Serenades for Settling is a mixed media installation about the listening body of the oyster and anthro-intervention. A vital member of our ecosystem, the oyster knows suitable settlement habitats through a distinction of sound signatures in underwater soundscapes. This work creates oyster tanks with fabricated oysters that sense sound, a multichannel soundscape and visuals that respond to local sound and noise via data from harbors to query human impact on oyster behavior.
Stephanie Rothenberg (visual artist and educator) and Suzanne Thorpe (sound artist and researcher) address issues of the anthropocene and environmental concerns through embedded and performed investigations. They bring their considerable histories and skills to bear on this new collaboration to construct a creative research environment to highlight undeniable human entanglement and potentially bring forth yet to be considered eco- relational qualities through uncanny juxtaposition. Stephanie Rothenberg's interdisciplinary art draws from digital culture, science and economics to explore relationships between human designed systems and biological ecosystems. Moving between real and virtual spaces her work investigates the power dynamics of techno utopias, global economics and outsourced labor. She has exhibited internationally and her work is in the collection of the Whitney Museum of American Art. Suzanne Thorpe, Ph.D. is an artist-scholar whose creative research intersects electronic music, feminist and ecological theory. Weaving together traditional and creative research methods she studies past and present music-making sites as critical frameworks that animate social and political concerns, and resist hierarchical social organization, normative identity articulation and material separation.
Cleek Schrey: New Multi-Channel Work for Concertina
A member of a legendary family of musicians, Cormac Begley is one of the most interesting and virtuosic concertina players from Ireland. Schrey will create a new multi-channel work for Cormac, expanding and situating his sound among 4 to 6 speakers, amplifying subtle nuances of the instrument, and processing aspects of the live sound.
Cleek Schrey is a fiddler, improviser, and composer from Virginia, now based in NYC. Recent engagements include the Beckett in London Festival with Gare St. Lazare, solo appearances at the Kilkenny Arts Festival in Ireland and the Big Ears in Knoxville. He collaborates frequently with David Behrman, Alvin Lucier, Shelley Hirsch, and his own ensemble of daxophones with Daniel Fishkin and Ron Shalom. He has studied composition with Behrman, Paul Caputo, Bunita Marcus, and Ronald Kuivila. The journal Sound Post has noted that Cleek "possesses a rare combination of traits: deep respect for traditional music and the people who make it, and an unbounded curiosity about new directions for sound."
C. Lavender Suarez: A/V Spatial Audio Piece
C. Lavender is interested in creating an A/V spatial audio piece for 5 speakers that responds in real time to a hypnotic video based upon her background in sound as a therapeutic method. This piece would be an advanced extension of a piece regarding psychoacoustics that she presented at MoMA PS1 in 2015. The work would be primarily composed using Max/MSP for both the audio movement and edited version of the accompanying video.
C. Lavender is a multi-disciplinary sound artist, sound healing practitioner and educator whose work spans through live performance, recording, installations, compositions, videos and workshops. She seeks to create an immersive aural landscape for the listener, an experience which is intensely physical, emotional and ultimately cathartic. C. Lavender has performed, lectured and hosted workshops at MoMA, The Whitney, and The Guggenheim, among other venues. C. Lavender has albums and recordings featured on the labels Editions Mego, Ecstatic Peace!, and RVNG Intl. C. Lavender published her debut book "Transcendent Waves: How Listening Shapes Our Creative Lives," with Anthology Editions in 2020.
Woody Sullender: Banjo-Playing Avatar
Woody created a banjo-playing game avatar of himself. He has used this avatar as a musical duet partner, as a stand-in for him in videos, and as a doppelganger for live performance. He will use Harvestworks' resources to gesturally direct the avatar, in both character's movements as well as its musical performance.
Woody Sullender is an artist based in Queens, NY. His pieces encompass a myriad of media including sculpture, video games, performance, theater, music, installation, architecture, origami, and sonic weaponry. His recent work utilizes video game space as an arena to undermine specific modernist ideologies and rituals of music reception. Previously, Sullender was recognized as a pre-eminent experimental banjo improviser and hosted a weekly radio program on WFMU. He teaches new media at various New York institutions and is founding co-editor (will Bill Dietz) of the sonic arts publication EAR WAVE EVENT.
Christina Wheeler: The Magical Garden
The Magical Garden, a multimedia performance/generative installation project, uses audio, video, and an LED light installation to present a multi-episodic, fantasy-narrative in an organic, garden setting for audiences of all ages. Within a technological context, a fantastic narrative follows five creatures trapped in a mythic garden searching for freedom. Multimedia creates the garden's magic with modern technology, in a performance and a generative installation that recombines this material.
Composer, vocalist, multi-instrumental electronic musician, and multimedia artist Christina Wheeler's sonic explorations include forays in a myriad of styles and forms. She blends an amalgam of improvised electronic music from an array of sources: processed vocals, vocal loops, hand-triggered sampler, theremin, QChord, autoharp, and electric mbira.
Artist Scholars include Allison Berkoy, Angeline Meitzler, Sylvain Souklaye and Poyen Wang.