Commissioned Works/Special Projects is our program offering financial and administrative assistance to individual artists. We act as a fiscal agent for those artists applying for grants from federal and state programs and private foundations. Through this program we help develop collaborative projects between artists and assist with the presentation of their work. In 2022, we have sponsored the following projects:
Eva Davidova: Garden for Drowning Descendant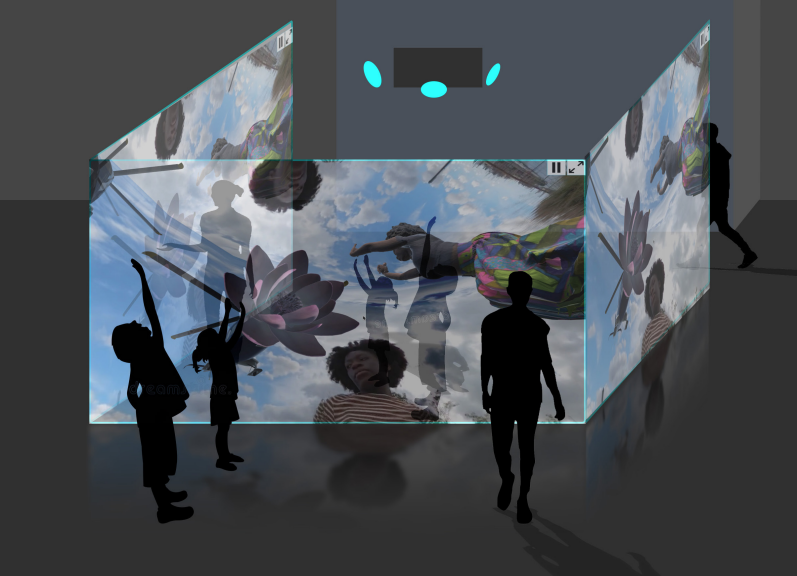 Garden for Drowning Descendant is an experimental participatory mixed reality installation on ecological disaster, interdependency, and manipulation of information. It explores the emergence of collective action from the mixture of individual ones, resulting in a "dance of agencies" between the audience, flocks of virtual animals, and performers from the past. Upon entering the installation space each audience member is linked to an animal avatar, joining "herds" and "flocks" inhabiting the scenes. By moving, the viewers exponentially influence the movement of the entire flock/herd, and eventually, that of the rest of participants.
Eva Davidova is an interdisciplinary artist with focus on new media(s) and their socio-political implications. Davidova has exhibited at the Bronx Museum, the Everson Museum, the Albright Knox Museum, MACBA Barcelona, CAAC Sevilla, Instituto Cervantes and La Regenta among others. Davidova's work addresses ecological disaster, interdependency, and the political implications of technology through performative works rooted in the absurd.
Lauren Petty: All That Is Seen and Unseen
All That Is Seen and Unseen is a new live performance which investigates the multifarious effects of technology on our collective human consciousness. The work confronts the dangerous erosion of truth and trust in our society, which is rapidly intensifying due to social media run rampant, conspiracy theories, computational propaganda, and other tools that have the ability to distort, manipulate and obscure reality. This vital new project communicates across boundaries by incorporating live performers, multi-screen video, live-feed cameras, custom programming, fabricated environments, and a vibrant, reactive soundscape.
Lauren is a digital media artist working in the intersection between interdisciplinary performance, multimedia installation, digital design, documentary and experimental film. She is a longtime collaborator of multi-disciplinary artist SHAUN IRONS under the name AutomaticRelease. Lauren is also a Professor with many years of experience teaching courses at Parsons (Art, Media and Technology), New York University (Integrated Digital Media) and Brooklyn College (Television, Radio and Emerging Media).
William Hooker: Silver Fleece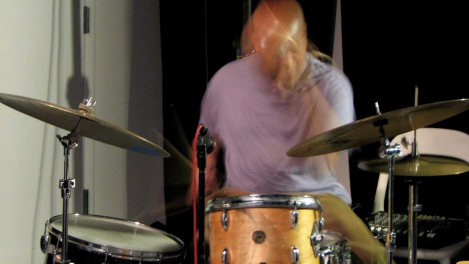 "Silver Fleece " is the second part of an interdisciplinary presentation called "Black Lives Suite", first presented in the Fall of 2021 with sponsorship of the Lower Manhattan Cultural Council. This project includes music, spoken word, dance and visuals. The evolution of this piece will continue in 2022 with the assistance of Harvestworks and the Fridman Gallery, where the actual performance will take place. The artist's vision of this work is to show and document aspects of the arts from a "black" perspective. This new interdisciplinary project will feature music, dance and poetry and will include jazz/experimental music as a foundation for this artistic statement which shows how far we have come in great black music, poetry (and spoken word) and dance(movement). The stylistic features of this work will present new artists (Ras Moshe-sax, Charlie Burnham-violin, On Davis and Jesse Henry-guitars, Jair-Rohm Wells on bass) making statements in their respective fields of music, showing how their works can be integrated into American culture at large. This will build on the interdisciplinary works Hooker has presented in the past which include "James Baldwin Suite", "The Great Migration" and "Chimes" – all presented in the New York City area.
William Hooker (drummer,composer and poet) has created works that range from jazz and "new" music to experimental genres. He has released over 70 CDs as a leader. Mr. Hooker has performed at the Brooklyn Academy of Music, Edgefest Jazz Festival, The Vision Festival, The David Rubenstein Atrium at Lincoln Center, The Kitchen, Roulette, and Real Art Ways. He has also presented his work at the JVC Jazz Festival, Vancouver Jazz Festival, Vilnius Jazz Festival, Experimenta Argentina,The Knitting Factory and the Victoriaville Music Festival.
These projects were sponsored by Harvestworks and funded in part by the New York State Council on the Arts with the support of the Office of the Governor and the New York State Legislature.