COLOR, LIGHT, MOTION is an online series featuring media artists and scholars in dialogue about artworks from the Bermant Collection of media and kinetic arts. Each featured presenter will discuss selected artworks in history and context and in relation to their own work and connections. This series is produced in collaboration with Harvestworks NY and the David Bermant Foundation.
August 20th 2022 at 1:00pm PDT // 4:00pm EDT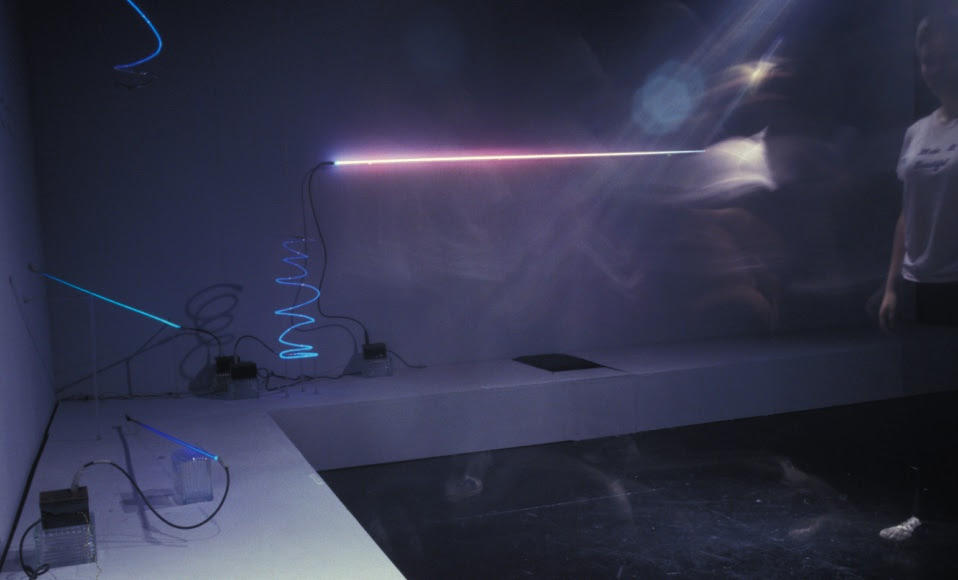 ABOUT THE ARTIST
Liz Phillips is a New York-based artist that has been making interactive multi-media installations for the past 50 years. She creates responsive environments sensing wind, plants, fish, audience, dance, water, and food. Sound is her primary descriptive material. Audio and visual art forms combine with new technologies to create elastic time-space constructs.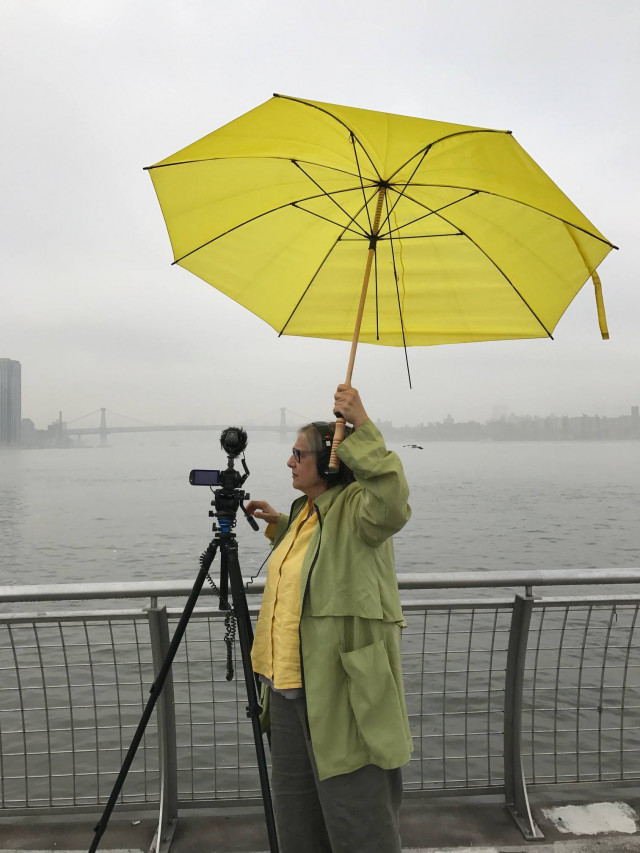 Phillips has exhibited interactive sound installations at art museums, alternative spaces, festivals, and public spaces. These include: The Academy of Natural Sciences; The Milwaukee Art Museum; Queens Museum of Art; The Jewish Museum; The Whitney Museum of American Art; The San Francisco Museum of Modern Art; The Spoleto Festival USA; The Walker Art Museum; Ars Electronica; Lincoln Center; Jacob's Pillow; The Kitchen' Rene Block Gallery and Frederieke Taylor Gallery. Phillips has also collaborated with the Merce Cunningham Dance Company; Nam June Paik; Heidi Howard; Earl Howard; Simone Forti and Robert Kovich. Her work was presented by Creative Time, The Cleveland Orchestra, IBM Japan, and the World Financial Center. Public spaces as diverse as an alternative energy site in a wind turbine (1981) in the South Bronx, the anchorage under the Brooklyn Bridge, Peavy Plaza in Minneaplois and Art Park in Lewiston NY have been the locations of site-specific installations.
"Waves Crossing" was commissioned and presented on Governors Island by Harvestworks and New York State Council on the Arts. "Relative fields in a Garden," her largest sound installation, was commissioned for the center atrium at the Queens Museum. This twenty-two channel sound installation and mural were a collaboration with her daughter, Heidi Howard. It was installed in the museum for a year and a half. In 2022 Annea Lockwood and Liz Phillips were commissioned to create two installations in Philadelphia, "The River Feeds Back" and "Inside the Watershed" by The Academy of Natural Sciences. These works can be experienced in Philadelphia until October 30th 2022.
Phillips received a B.A from Bennington College in 1973. In 1981 she co-founded Parabola Arts Foundation, a not-for-profit organization created by five media artists from varied disciplines (music, sculpture, film, video). Phillips received a Guggenheim Fellowship and numerous individual and collaborative commissions from New York State Council on the Arts and National Endowment for the Arts as a composer, video artist, audio artist, and multi-media artist. She teaches workshops and lectures on Sound and Interactive Media (sculpture department) at Purchase College and at Columbia University in the MFA Sound Program. She has also curated several exhibitions of emerging artists and women making installations with sound.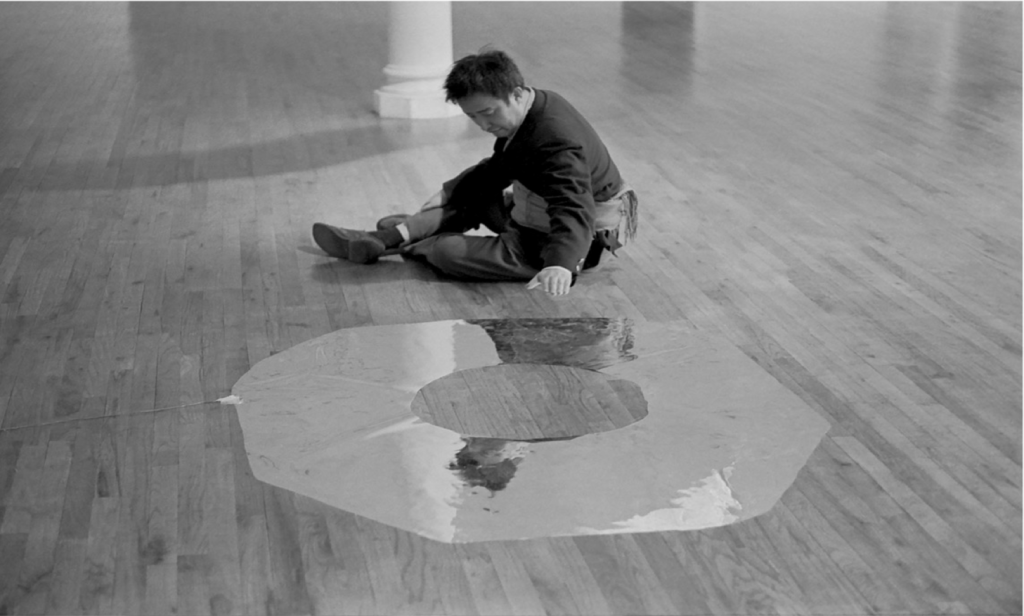 RESPONDERS
MIYA MASOKA is an American composer and sound artist. Her work explores bodily perception of vibration, movement and time while foregrounding complex timbre relationships. In 2018 she joined the Columbia Visual Arts Department as an Associate Professor, where she is the director of the Sound Arts Program, a joint program with the Computer Music Center. A 2019 Studio ARtist for the Park Avenue Armory, Masaoka has also received the Doris Duke Artist Award in 2013, a Fulbright Fellowship to Japan in 2016, and an Alpert Award in 2003. Her work has been presented at the Venice Biennale, MoMA PS1, Kunstmuseum Bonn, and the Park Avenue Armory. She has been commissioned by and collaborated with the BBC Scottish Symphony Orchestra, the Glasgow Choir, International Contemporary Ensemble (ICE), Bang on a Can, Jack Quartet, Del Sol, Momenta and the S.E.M Ensemble. She has a 2019 commission for an outdoor installation at the Caramoor, Katonah, New York.
PAULA RABINOWITZ is a Professor Emerita of English at University of Minnesota, served as Editor-in-Chief of the Oxford Research Encyclopedia of Literature from 2014-2022. She is the author of dozens of essays and has written or edited a number of books on mid-20th-century American politics and culture, focusing especially on working-class and popular literature and film, including Labor and Desire: Women's Revolutionary Fiction in Depression and America; They Must Be Represented: The Politics of Documentary; Black & White and Noir: America's Pulp Modernism and the prize-winning American Pulp: How Paperbacks Brought Modernism to Main Street. Her co-edited 1987 collection, Writing Red: An Anthology of American Women's Writings, 1930-1940, was reissued by Haymarket Books in 2022. She has been awarded two Fulbright professorships (Rome and Shanghai), two Rockefeller residencies (Bellagio and Oregon State) and a Mellon Postdoc at Wesleyan University, as well as short-term residencies in Sydney and Tokyo. Since the 1970s, she has collaborated with Liz Phillips on presentations, essays and installations. Currently, she is working on two books: Into the Image, a collection of essays written since 2000; and Cold War Dads: Family Secrets and the National Security State, a double biography of two fathers.
NITIN MUKUL was born in 1969 in Lawrence, Massachusetts. In Nitin Mukul's practice, the process of erasure and incremental distance from one generation to the next manifests through the use of areas of intense color and texture alongside ornamental patterns, motifs and structures that fade in and out of the surface of the canvases. The paintings are situated on physical as well as psychological planes, a palimpsest where fading memories are screened through a present moment that feels less than stable in some ways. His video work bridges the painting process and motion pictures to arrive at a new format for painting as an event. The process is called "durational painting". These pieces begin by layering paint in sheets of ice, freezing each layer of acrylic and material so that they accumulate layers of color and texture. Placing the frozen mass outside, I allow it to melt according to natural weather conditions, filming the process with a tight zoom. The entropic process gives way to a microcosmic glimpse of elapsing geologic time. They reflect the ambient conditions of the sit they are made in: light; temperatures; time of day; location; our climate at large; and a historic resonance. This is a new context for understanding abstract painting that calls for deep viewing and appreciating the potential of materials used to act with their own agency.
THE DAVID BERMANT FOUNDATION
The David Bermant Foundation: Color, Light, Motion was established in 1986 with the mission to encourage and advocate experimental visual art which draws its form, content and working materials from late twentieth-century technology. The working materials include the physical sources of energy, light, and sound. The resulting artworks question and extend the boundaries of the visual arts. To learn more about The David Bermant Foundation and its collection, visit the foundation website.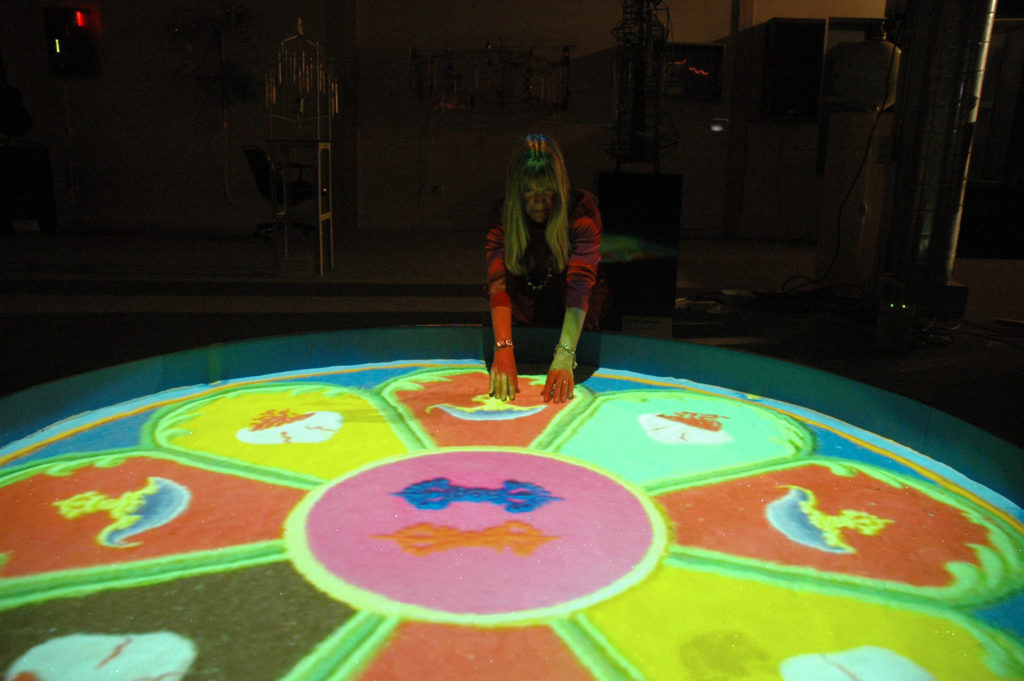 ABOUT DAVID BERMANT
David Berman was one of the most admired collectors of avant-garde art in the United States. His collection of kinetic art includes works which employ both virtual motion as well as actual motion. Art which utilizes video, holography, magnetism, electronics, robotics, chemistry, and various types of light provide a look into the fourth dimension.
The late David Bermant was born in New York City and grew up in Manhattan. In January of 1941, six months after graduating cum laude from Yale University age 21, he joined the U.S. Army. He ended his army career as a major of artillery in Patton's Third Army, earning a bronze star with an oak leaf cluster for his actions. In 1947, he married Ruth Jesephson, and later divorced after 46 years. They had four children: Ann, Jeffrey, Wendy, and Andrew. David then married Susan Hopmans and established homes in Santa Barbara and the Santa Ynez valley where he created and maintained facilities to house a large and significant art collection.
David had two great interest: building shopping centers – on the East Coast and in California – and collecting art. Technological art was his favorite because it utilized modern science and technology and was more dynamic than other art that just hung on the wall. Bermant felt that such art should be shared in public spaces other than museums and galleries. He established and funded the David W. Bermant Foundation: Color, Light, Motion to ensure the art form most dear to his heart would thrive beyond his lifetime.
Jointly Hosted by: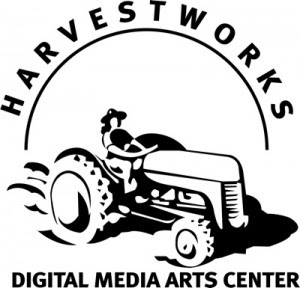 ArtSci Center is home to the ArtSci Collective, an international group of researchers and creatives that develops projects, workshops, performances, and exhibitions that address social, ethical, and environmental issues related to scientific innovations. If you would like to get involved please subscribe to our newsletter or reach out to artscicenter@gmail.com !