It all begins with a dream. But maybe it's more like a nightmare. A young child asks us to follow them to see something. We begin to run in order to keep up. Until, finally, we come to what we're supposed to see: 100 slaughtered sheep. "I killed them so you would look", the child tells us, and immediately we know, we had a part to play in the ecological horror that lay in front of us.
LOCATION: The Harvestworks Art and Technology Program Building 10a, Nolan Park, Governors Island
August 27th – October 30, 2022. Open to the public Saturdays and Sundays 11 am – 5 pm
Artist Day: Saturday September 10, 2022
Like Eva Davidova's previous works, Garden for Drowning Descendant, an interactive mixed reality work, uses the subconscious to workshop ideas. There is an ongoing exchange between dream and art in Davidova's work; she processes the ideas for her art while sleeping, allowing new narratives to emerge.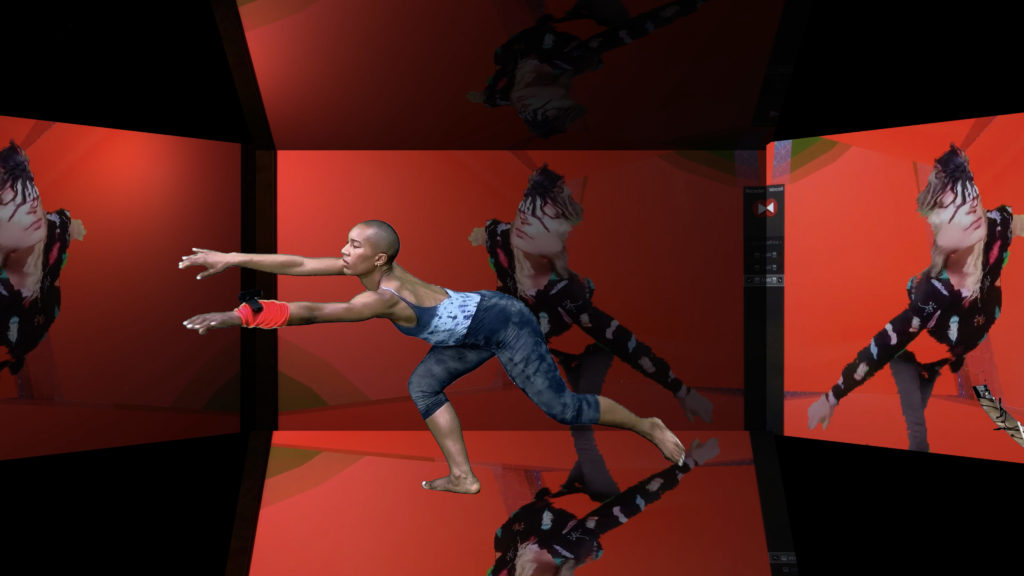 The resulting works have much in common with the somatic photoplays we generate at night: spaces that are warped and illogical, figures that are slippery and change form, symbols that are sometimes clear and otherwise elude us. Many of these elements also make the work so specifically digital, such as the way Davidova creates her stages. Existing simultaneously as a 360 VR environment and an immersive projection installation, the surroundings for us as viewers and the subjects within the work are aggressively cubic. The same landscape or architecture is recombined in different orientations to create hard-edge seams. Top and bottom are not distinct from left and right, nor are they continuous, but rather they repeat in a dizzying prism that clearly demonstrates the unreal construction of the environment.
It is within these chaotic scenes that performers – humans, avatars, digital objects, and audience alike – dance. In search of new movements, Davidova collaborates with performers who are given open-ended prompts which are later augmented with digital objects. For example, in one of the four scenes of Garden for Drowning Descendants subtitled Surveillance Garden, the dancers are asked to tear themselves away from something. Once inserted into the digital scenes, their bodies are placed at the edges of the digital space, and the mirroring of their actions creates a sense of the bodies pulling apart and recombining. This is juxtaposed with floating crocodiles and an avatar from whose belly a crocodile emerges. Davidova uses the VR space to invent multiple possibilities for the future, at once threatening and beautiful.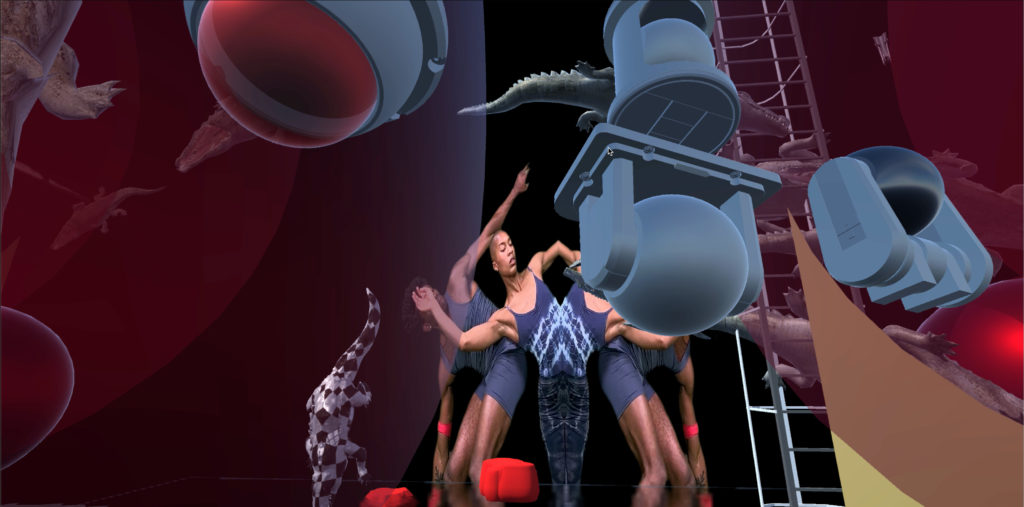 In another scene, we see an aerial silks performer both upside down and rightside up as she herself flips and contorts above water rising in the interior space. At our eye level, an avatar bobs above and below the water, gasping to catch her breath. Within the VR environment, the viewer too can dip below the water and struggle, standing on tiptoes, to get above it. Like the way that smartphones have trained us to add new gestures to our movement vocabularies like swiping and pinching, Davidova asks the same of viewers. Whereas the person within the VR console controls the camera for the piece, which is then projected to the larger audience, members of the audience can interact with the elements within the projection, which is then seen by and affects the experience of the person in VR. But the rules of engagement are left intentionally unsaid; participants need to experiment in order to understand the possibilities for interaction. How can we shoo away this ferocious crocodile falling from the sky? Can we intervene amidst a field of dying sheep? Here, the audience must invent and collaborate, but, ultimately the piece poses a paradox of ecological disaster. We may desire to make change, but inevitably we end up drowned. Still, we try.
Within the pandemonium of the scenes created by Davidova, of paradoxical landscapes and absurd floating animals and technology, it is the human actors who stand out: both the performers and us, the viewers. As there is a violent collapse of animals, landscape, technology, and humans, we are the ones left as actors to engender change. But we can only do so much.
Essay by Faith Holland, New York 2022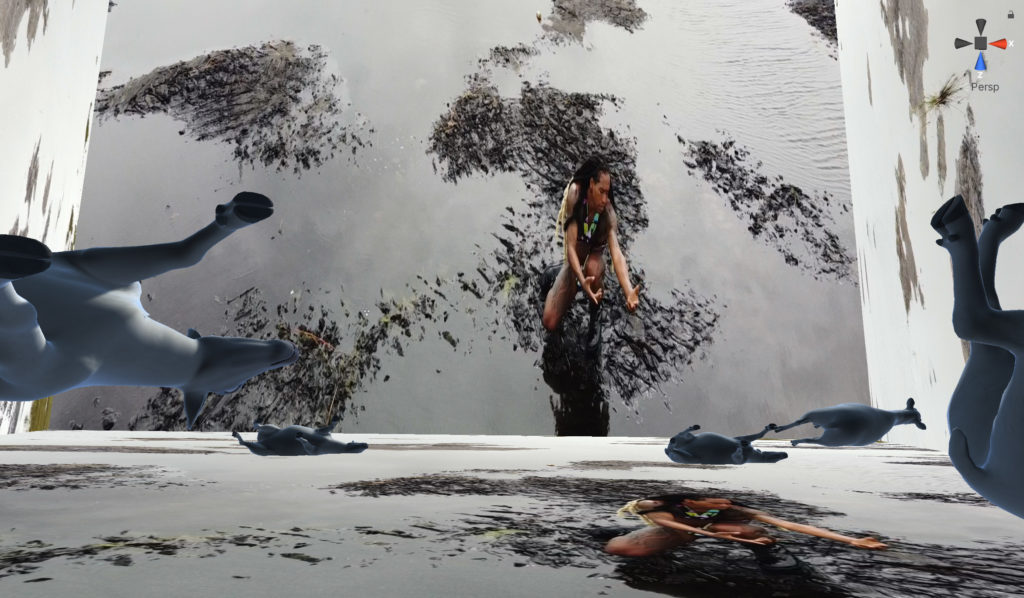 CREDITS
Creative Technologist: Sidney San Martin
Sound: Bergsonist (selwa Abd), Matthew D. Gantt and Dafna Naftali
Performers: MX Oops, Catherine Kirk, Vinson Fraley, Danielle McPhatter
Motion Capture files from Eve by choreographer Kristen McNally
Consultants: Danielle McPhatter, Wolfgang Gil, Johnny Lu, Matthew D. Gantt, Carol Parkinson
Team in Trinidad:
Camera: Arnaldo James
Location Scouting & Coordination: Jalaludin Khan
Team at green screen studio: RD Content
Developed at Triangle Arts Association
Funded by New York State Council of the Arts (NYSCA) Individual Artist Film, Media & New Technology Grant
With generous support from Harvestworks, NEW INC, EY Cognitive Human Enterprise, ISSUE Project Room, Lovely Lioness Dance Studio, and Allign Studio.