Harvestworks Digital Media Arts Center in collaboration with Music Community Lab and Institute for Public Architecture proudly presents Off-the-Grid Music Hackathon. An innovative event that invites music enthusiasts to create music outdoors, far from the confines of electrical outlets and internet access. Located on Governors Island, this hackathon challenges participants to embrace the unique setting as they embark on musical and sonic explorations. Without the comfort of tables and chairs, artists will be prompted to adapt their creative processes, forging new paths and redefining their musical experiences. The hackathon fosters a spirit of inclusivity, welcoming any medium, technique, or technology that allows participants to craft exceptional music and sound experiences within these constraints.
The event will feature a diverse lineup of talks, performances, workshops, and presentations by the passionate participants. With free admission, this non-competitive hackathon aims to encourage collaborative learning, exploration, and creativity. We also extend an open call for talks and workshops, urging individuals to submit their ideas and contribute to the enriching experience. Join us for a harmonious fusion of art, technology, and the beauty of nature at the Off-the-Grid Music Hackathon. Click here to RSVP.
Location: Harvestworks Art and Technology Program Building 10a, Nolan Park, Governors Island
Open August 5 @ 12:30 – 6:00 pm
Rain Date
August 12 @ 12:00 – 6:00 pm
Agenda
11:30 PM Registration Opens
12:00 PM Opening Talks
01:00 PM Hacking Begins
01:00 PM Brainstorming Session
02:00 PM Workshop(s)
05:00 PM Presentation of Progress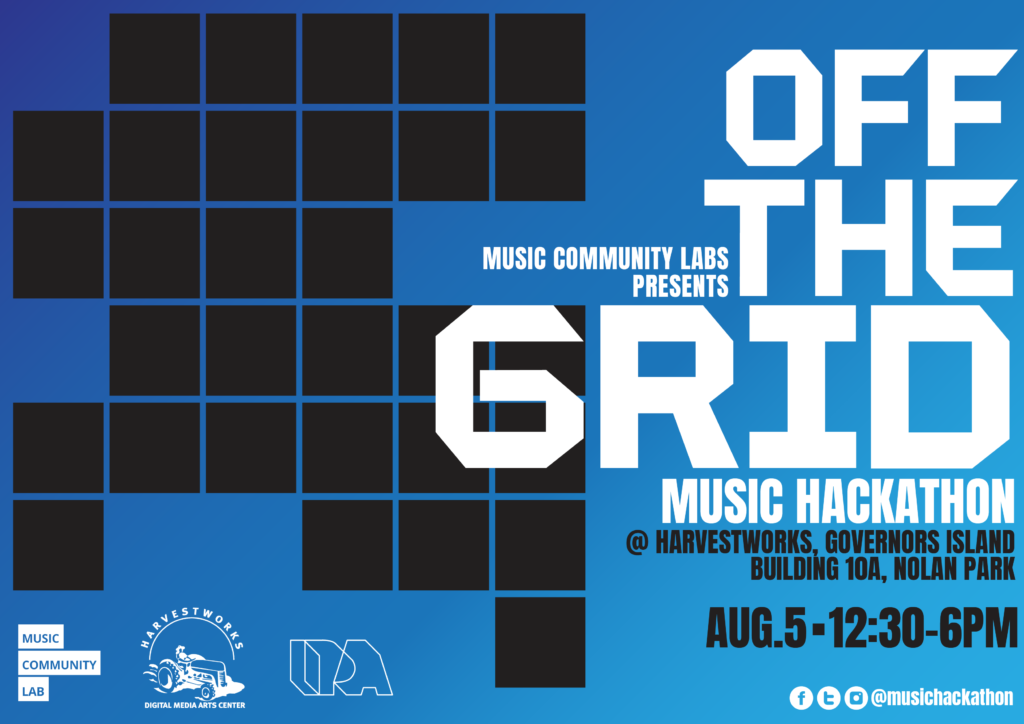 This is an outdoor event. Bring any supplies you might need for your auditory masterpieces. Bring hats, sunscreen, bug spray, picnic blankets to work on and water bottles and whatever you need to work comfortably outdoors. Snacks and Refreshments will not be provided, but can be purchased from food vendors on the island.
In case of postponement due to impending rain, notifications will be sent out via email to all who RSVPed.
This event is organized by Music Community Lab and hosted in back and side yards of Harvestworks and the Institute for Public Architecture at their residencies on Governor's Island.