LocaleS3 is sound as kinetic plastic sculptural material to be formed with the dynamic properties of location, size, direction, motion, movement. In a dark room, the artists animate & orchestrate interactive virtual sound objects with vocalizations & sound compositions, distributed in space. Visitors become involved accomplices playing the room as an instrument, using smartphones & position tracking headphones
Opening September 1, 2023 Closing October 29, 2023
Friday, Saturday and Sunday 11 – 5 pm
Location: Harvestworks Art and Technology Program Building 10a, Nolan Park, Governors Island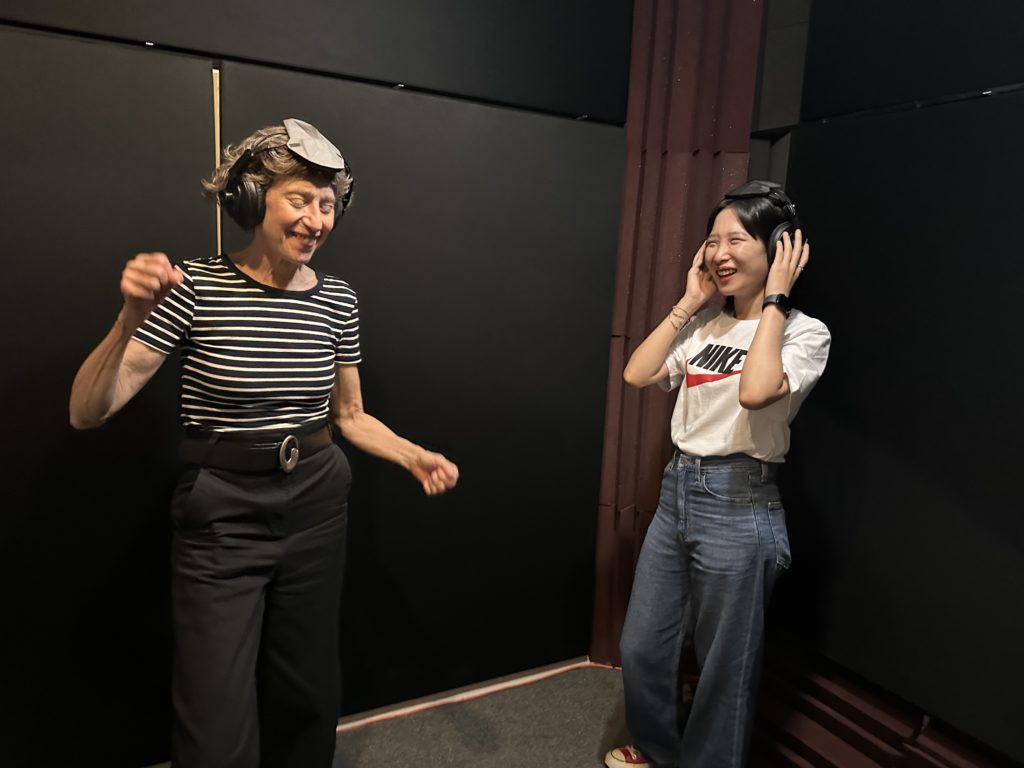 LocaleS3 is a collection of compositions created by Michelle Jaffé, Phil Edelstein & David Reeder arranged in specific locations discoverable by visitors to Nolan House. The artists present a number of audio compositions, placing / mapping a mosaic and library of sounds to locations in the rooms at the resolution of a few inches of sound into specific locations. Visitors wear location tracking headphones which determine their position. Leveraging the system from NousSonic (https://www.nousdigital.net) which incorporates Ultra Wide Band triangulation technology, visitors hear specific sonic movements in virtual shapes, as they traverse the space. These shapes are the sonic field of discovery. Each scene contains portals at specific locations that switch the visitor from one artist composition to another. According to their own curiosity, each visitor will walk a different path, passing through one sound shape to another. In this way, visitors become co-creators of the composition according to how they navigate the space. The more attentive the exploration, the richer and deeper the sculptural sonic experience will be.
LocaleS3 is a project that explores sound perception with multiple spatial and kinetic interactions like movements, locations, directions, and integrates virtual/physical sound objects. Multiple hardware/software explorations will be included in the project in collaboration with the NousDigitalNousSonic system to localize the audience. Permutations in space and sound will create an audio-spatial world for the audiences to experience.
Jaffé/Edelstein/Reeder bring together intersecting interests & complementary skills in software, concept, experience. Interdisciplinary artist Michelle Jaffé creates immersive sculpture, sound and video installations that prompt active listening and present complex experiential propositions. She works with sound to expand sculptural experience, as a gestalt to forge new neural connections, by engaging mind, body & limbic brain simultaneously. For Edelstein, this collaboration is an opportunity to realize a long-held imagination of software defined high gradient localized sound in space. Reeder engages the interplay between big, immersive audio sound (a modern Wall of Sound) and the delicate nature of individual narratives in a pure audio environment. Aided by software intelligence, sound objects can discover and interact with mobile human listeners via human-like gestures or qualities. Sound objects may be composed, per se, or represent data fields of actual phenomena in the real world.
https://michellejaffe.com/ http://davidreeder.org/
---
Artist Bios:
Michelle Jaffé is an American interdisciplinary artist who creates immersive works that prompt active listening. Her sculpture, sound and video installations present complex experiential propositions. Over the past 20 years, Jaffé has brought sound directly into the participant's 3-D space, through cutting edge programing in SuperCollider & speaker technologies such as Holosonic & Wave Field Synthesis. She works with sound to expand sculptural experience, as a gestalt to forge new neural connections, by engaging mind, body & limbic brain simultaneously.
She has exhibited at The New Media Gallery, Vancouver, Beall Center for Art + Technology, UC Irvine, Duke University Power Plant Gallery, Urban Institute for Contemporary Arts, Grand Rapids, Transylvania University, Lexington, KY, Milton Art Bank, Milton, PA, and in New York City at 11 Rivington, Bosi Contemporary, WhiteBox, NY, NYCEMF, Wald & Po Kim Foundation, Susan Berko-Conde Gallery & Electroacoustic Music Festival.
Jaffé has been awarded 3 Individual Artist grants from NYSCA, 4 QAF grants from Queens Council on the Arts and is a 4 time fiscally sponsored artist of NYFA & was Artist-in-Residence to the Computer Music Department at Brooklyn College and has been awarded residencies at MacDowell Colony, Djerassi, The Exchange Museum and Newlyn Gallery in England.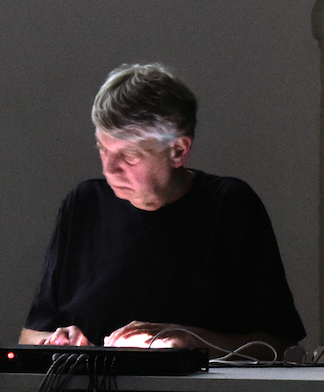 Phil Edelstein is a founding member of Composers Inside Electronics (CIE). CIE projects include Rainforest IV as conceived by David Tudor from 1973, & with John Driscoll realizations of Rainforest V beginning in Mexico City in 2009. Works with technology include Impulsions, Shrieks & Nuptials (The Kitchen 2018), Pepsi Modulator Revisited (Teasing Chaos); Episodes (Arnot), Subject to Change Pepsi Modulator for 8 Thumbs (Unexpected Territories Berlin); with Tom DeWitt Philharmonia, the development of Pantomation motion tracking system & with EBA Called Off, At Once. Tudor/CIE's Rainforest V is in the collections of MoMA, Museum der Moderne, Salzburg, Arter, Istanbul, Musée d'Art Contemporain, Lyons, France.
Some projects have included CIE works with Stephen Petronio Dance Company Bloodlines; sound design for Lyon Opera Ballet realization of Merce Cunningham's Exchange with Tudor's Weatherings. Residencies: Experimental Television Center, WNET-TV LAB, Center for Music Experiment (with CIE) at UCSD. Other collaborations include Paper Music (Koprod Zurich) conceived with Cynthia Black. Other experience: SUNYA, Wesleyan & large-scale commercial systems software architecture & development.
David Reeder is a media arts software developer who combines software design with music composition, sound invention and inter-media installations.
Reeder's current focus is data engineering and cloud architecture, data sonification, niche problem solving, custom network protocols, micro-networking, deep services and backend support. His research interests include developing enhanced features for Open Sound Control (OSC) and novel means to present musical experiences via pocket computers, ubiquitous computing, wearable devices, brain-computer interfaces (BCI) and gestural control systems.
Reeder has over 15 years professional experience in software development and Internet protocol design spanning commercial, educational and government operations in the areas of networking, operating systems, security, Internet standards and data management.
As a musician, Reeder has performed or presented compositions and installations at the Darmstadt Internationale Ferienkurse für Neue Musik and cities around the US. As a music technologist, David has built an iOS app to synchronize performances via Internet atomic clocks, presented solo and team installations, presented new research at ICMC and has worked as consultant with a variety of projects and artists.
He is co-organizer of NYC SuperCollider, serves on the executive steering committee of the New York City Electroacoustic Music Festival (NYCEMF) and is co-founder of the NYCEMS (Society) (2013-2017). http://mobilesound.org