LOCATION: Harvestworks Art and Technology Program Building 10a, Nolan Park, Governors Island
Limited capacity. Ticket/RSVP/Donation not required but is encouraged and appreciated! RSVP for all events here.
Calendar of Events
(Fri) 4/28/23
For opening day of the exhibition, LiveCode.NYC members will activate the space by filling the Harvestworks building with live sound and visuals. These happenings will occur intermittently throughout the day. Visitors are encouraged to talk and engage with the performers and get to know the LiveCode.NYC community better.
---
(Sat) 4/29/23
Presentations by Indira Ardolic, Melody Loveless, and Ramsey Nasser
These artists will explore solo multichannel systems in a 2-channel video set-up
---
(Sun) 4/30/23
---
(Fri) 5/5/23
Katarina Hoeger and thisxorthat will collaborate in an audiovisual live coding performance. MYLAR is a multimedia performance duo that combines percussion, voice, sampling, and live coding.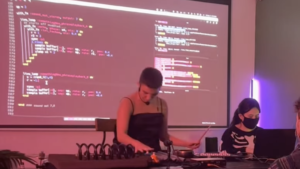 ---
(Sat) 5/6/23
This is a hands-on workshop on Sonic Pi, a live coding synthesizer for making music.
Live coding
---
(Sun) 5/7/23
---
(Fri) 5/12/23
Messica Arson will combine live coding with screaming, sampling, and looping. R. Luke Dubois will live code/patch a modular synthesizer.
---
(Sat) 5/13/23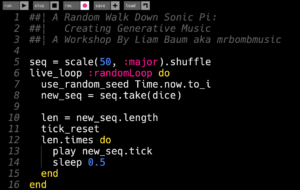 ---
(Sun) 5/14/23
An introduction to combining sound with Processing, a platform for coding creative multimedia.
A live coding concert featuring performers exploring world building, generative visuals, and vocals.