Opening This Weekend!
[May 28, 2022 – August 7, 2022] Listening and Seeing – An Exhibition of Art and Technology
Listening and Seeing – An Exhibition of Art and Technology will feature major new works created by Guggenheim award winning composer Miya Masaoka, New York State Council on the Arts – New Technology awardees Joe Diebes, Michael Schumacher, Edin Velez and Harvestworks artists Surabhi Saraf and Ivana Dama. Open weekends 11am-5pm, Building 10a, Nolan Park, Governors Island.
The Ear Hut + Listen Ahead, a listening station created by Miya Masaoka. On the river's edge at Building 12, visit The Ear Hut, a contemplative space and listening experience featuring a new composition by renowned sound artist Stephen Vitiello. Experience the mix of sounds from the outside soundscape to the embedded compositions coming through the Ear-Dows.
[May 28-29 and June 4-5 @ 11am – 5pm] urMix
urMix, an interactive listening console by Michael Schumacher based on the idea of multitrack recording and surround-sound listening. The listener interacts with urMix by physically connecting and disconnecting 4 phone plugs out of 8 patch points to hear a remix of musical tracks. Building 10a, Nolan Park. A Harvestworks Sponsored Project.
COLOR, LIGHT, MOTION – EPISODE 11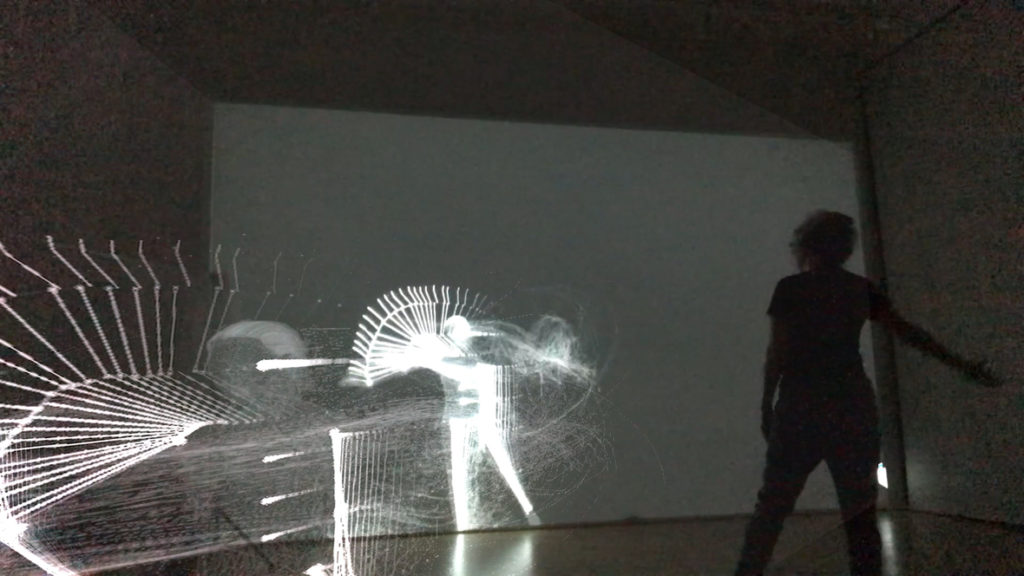 [May 28, 2022 @ 1:00pm PDT // 4:00pm EDT] Color, Motion, Light!
Art|Sci Center + Harvestworks NY + Bermant Foundation present Color, Motion, Light! an online series featuring media artists and scholars in dialogue about artworks from the Bermant Collection of media and kinetic arts. Episode 11 features media artist Toni Dove who will discuss selected artworks in history and context and in relation to their own work and connections. Click Here to Watch! Also on view from the Harvestworks Art and Technology Program in Building 10a, Nolan Park on Governors Island. FREE.
UPCOMING EVENTS
[JUNE 11, 2022 @ 3PM] The Bergsonist: As If Reality?
The Bergsonist: As If Reality? is an outdoor performance by Selwa Abd in partnership with Issue Project Room. Live Performance with Electronics. A work in progress referencing David Chalmers "Reality +" while following a creative approach based on intuition & fragment based systems. Building 10a, Nolan Park. OUTDOORS.
Experience Lab and Creative Play @ The Art and Technology Program
Saturdays from 1-3pm starting on June 11th, the Harvestworks' Experience Lab will present tech workshops by Matthew D. Gantt and Creative Play sessions that engage audiences with featured technology. Building 10a, Nolan Park, Governors Island. This project is made possible with funds from the NYSCA in Partnership with Wave Farm: Immersive Art & Technology Initiative, with the support of the Office of the Governor and the New York State Legislature.
Other News
Check out this podcast about 2022 resident Ivana Dama. You can also see her new artworks Command and Control in the Listening & Seeing exhibition.