The RPI Electronic Arts exhibition showcases a host of immersive and interactive audio-visual installations, multichannel music compositions, and performances featuring live coding, and a special live event featuring Pauline Oliveros' Expanded Instrument System (EIS).
Opening Friday June 9, 2023 and Closing Sunday June 18, 2023
Open to the public Friday, Saturday and Sunday 11 – 5 pm
Location: Harvestworks Art and Technology Building 10a, Nolan Park, Governors Island
Produced In partnership with Harvestworks, The Rensselaer Polytechnic Institute (RPI) Department of Arts Faculty and Graduate Student Exhibition on Governor's Island features new works by established and emerging artists who are members of RPI's Electronic Arts Ph.D program. One of the first practice-based programs in the country, the Electronic Arts Ph.D encourages artists and researchers to explore interdisciplinary and transdisciplinary artistic practices including multimedia, installation, virtual reality, sound art, BioArt, social practice, music and sound composition, and improvisation.
Featured artists include Jude Abu Zaineh, Matthew Goodheart, Rob Hamilton, Kathy High, Stephanie Loveless, Lisa Schonberg, Ricardo Tovar Mateus, and Silvia Ruzanka, with performances by Michael Century, Leo Chang, Kosmas Giannoutakis and Aaron Juarez, and Bibiana Med.
Installations

Jude Abu Zaineh – In Balsam Jorh | بلسم جرح ,kaleidoscopic patterns are derived from images created using a traditional Palestinian meal, maqlouba, growing, decaying, and changing in petri dishes. In this exploration, Abu Zaineh references past, present, and possible futures. She questions; what kind of planetary space would a microbiome occupy? What does digestive memory feel like? What would our ancestral foods that we digest tell us from beyond? How do we experience interspecies relationships between human-microorganisms?

Matthew Goodheart – Listening Gong 2 is an interactive sound installation for transducer-actuated metal percussion. A tribute to Pauline Oliveros, the installation is a meditation on the nature of listening and technology, in which a large gong sonically responds to its environment and the sound of people in the room.

Rob Hamilton – One Who Lives Near the Olive Tree is an multi-channel fixed media/live-diffusion work. Composed in memory of our colleague and friend Pauline Oliveros, the work was generated using ChucK processes designed to overload the computer processor on which they are instantiated.

Kathy High – Material Studies – short videos is a suite of three collaborative projects from the last five years working between science and art. OkPoopid is a promo for an app where participants can line up speed dates with potential fecal donors for DIY at home FMTs (fecal microbial transplantations). Avatar of the Virus remixes Vidhu Aggarwal's voice-performance of her poem "Avatar of the Virus," exploring to how speech and breath became vectors of contagion. Rat Laughter uses rat giggles to compose a chorus of laughter for laboratory rats to enjoy.

Stephanie Loveless – In the Throats of Trees is a sound installation, with accompanying booklet of listening instructions exploring the "voices" of trees. The composition is built up of recordings of the artist vocalizing with the sound of wind through the branches of five species of trees – larch, birch, pine, spruce, maple – making a dark forest of sound. The listening instructions invite the audience to listen as trees. Trees operate in a completely different scale of time and movement than do humans — what might we learn from them if we stopped to listen?

Lisa Schonberg – Sonic Therapies for Toxic Relationships is a trio of 4-channel compositions that invite re-consideration of relations with insects – and plastics – through listening. Dramatic shifts in insect populations due to anthropogenic environmental change have been portrayed by the popular media in a narrative of catastrophization. These ecological sound works propose that we listen to insects and plastics – and speculate about how their sonic roles– in order to move towards curiosity and away from fear and overwhelm.

Ricardo Tovar Mateus – Collisions: Platitude New York is a collaborative immersive video and multichannel audio installation presentating a semi-autobiographical, magical realist experience of life in New York City – set on ultra-fast-forward. The work weaves an arc of elation, confusion, and joy that reflect the first signs of life post-COVID in America's densest metropolis. Visuals by Tanner Pletzke.
Silvia Ruzanka – Botanical Computing Study 02. The regime of computation in which we live is structured through bits, electrons, silicon, and an underlying logic, a system of thought. What form would botanical computing take, in rhizomatic networks, chemical memory, a computation not based on rational thinking but instead grown from plant-thinking? Botanical Computing: Growth Study 02 meditates on this speculative through the growth of hybrid plant-electronic organisms.
Performances
Sunday June 11 @ 1 pm and 3 pm – Michael Century – Improvisations on Accordion with Expanded Instrument System is a durational meditation on the image of a "transforming mirror" and uses the Expanded Instrument System – a suite of techniques developed over 1965-2016 by Pauline Oliveros for processing time delays with varying degrees and kinds of algorithmic modification. EIS is used by permission of the Pauline Oliveros Trust and Ministry of Maat.

Sunday June 18 @ 1:30 pm – Leo Chang – VOCALNORI is a solo improvisation using a custom-made performance system and instrument that amplifies vocal sounds through Korean gongs and other objects via electronic instruments. The work seeks a way of connecting with cultural artefacts without touching them; connect with a Koreanness that complicates "tradition" and embraces ambiguity within identity and peoplehood.

Sunday June 18 @ noon – Bibiana Med – Queering Deep Space Frontiers Through Performance is a multichannel lecture/performance critiquing the motives and actors in the frontier of outer space. This research-creation project, Queer Space Network (QSN), uses queer theory as a political inquiry tool, framing 'queer' as an unstable, boundary-crossing concept with a possibility of plurality.

Sunday June 18 @ 3 pm – Serendipitous Liquidators (Kosmas Giannoutakis and Aaron Juarez) – Live Coding. This performance engages with SuperCollider tweets and Hydra sketches composed by various creative coders who are cited on screen. The computerized visuality and musicality of the authors are entangled and liquidated through serendipitous encounters with digital glitches and non-linear exteriorizations.
---
Artist Bios
Jude Abu Zaineh is a Palestinian-Canadian interdisciplinary artist and cultural worker. Her practice employs art, food, and technology to investigate meanings of culture, displacement, diaspora, and belonging. She examines ideals of home and community while working to develop aesthetics rooted in her childhood and upbringing in the Middle East. Abu Zaineh is the recipient of the 2020 William and Meredith Saunderson Prizes for Emerging Artists, and was one of the first selected artists to participate in a collaborative residency with the Ontario Science Centre and MOCA Toronto (Canada). She has presented her work at a number of cultural institutions including Cultivamos Cultura, São Luis, Portugal; Museu de Arte, Arquitetura e Tecnologia, Lisbon, Portugal; Centro de Cultura Digital, Mexico City, Mexico; SVA, NYC, USA; Institute of Contemporary Art San Francisco, USA; Forest City Gallery, London, Canada; Art Gallery of Windsor, Canada; with current exhibitions at Centre Culturel Canadien, Paris, France and Arts Windsor-Essex, Canada; and upcoming exhibition at Museum London in collaboration with Media City Film Festival, Canada.
---
Matthew Goodheart is a composer, improviser, and sound installation artist who has developed a wide body of work exploring the relationships between performer, instrument, and listener over his 30-year career. His diverse creations range from large-scale microtonal compositions to open improvisations to immersive sound installations, often focused on the interrelationship between instrument design, acoustics, and compositional/improvisational constraints. His electroacoustic technique called "reembodied sound" resonates acoustic instruments using surface transducers so that they sound autonomously. This practice has provided multiple directions for his work for over a decade, finding its expression in electroacoustic chamber compositions, algorithmically generated improvisation structures, site-specific installations, and binaural fixed-media works. His awards and honors include the Berlin Prize in Music Composition, a Civitella Ranieri Fellowship, and a Fulbright Grant. A lifelong teacher, he is Assistant Professor of Music Composition at Rensselaer Polytechnic Institute.
http://www.matthewgoodheart.com
---
Composer and researcher Rob Hamilton explores the converging spaces between sound, music and interaction. His creative practice includes extended-reality performance works built within fully rendered networked game environments, procedural music engines and mobile musical ecosystems. His research focuses on the cognitive implications of sonified musical gesture and motion and the role of perceived space in the creation and enjoyment of sound and music. Dr. Hamilton received his Ph.D. from Stanford University's Center for Computer Research in Music and Acoustics (CCRMA) and currently serves as Associate Professor of Music and Media and Department Head of the Department of Arts at Rensselaer Polytechnic Institute in Troy, NY.
https://homepages.rpi.edu/~hamilr4/
---
Kathy High is an interdisciplinary artist who collaborates with scientists and activists, and considers living systems, animal sentience, and ethical dilemmas of biotechnology and medical industries. She is Professor of Arts at Rensselaer Polytechnic Institute,Troy, NY, and is director of BAT (BioArt and Technology) Laboratory in RPI's Center for Biotechnology and Interdisciplinary Studies. She is a supporter of community DIY science and ecological art practices and the Project Coordinator for NATURE Lab with The Sanctuary for Independent Media. She is committed to queer / feminist approaches to reshaping ecological bio-science research, learning-by-doing and collaborative action. She is the recipient of fellowships and awards from National Endowment for the Arts and Guggenheim Foundation. She is currently part of the Metabolic Arts Gathering, Medical Museoin, Copenhagen, Denmark.
---
Stephanie Loveless is a sound and media artist whose research centers on listening and vocal embodiment. Recent works include an apothecary of listening prescriptions for audience-identified ailments, and sound works that channel the voices of plants, animals, and other beings. Loveless' sound, video and performance work has been presented widely in festivals, galleries, museums and artist-run centers in North America, South America, Europe and the Middle East. She lives and works in upstate New York, where she is a Lecturer at Rensselaer Polytechnic Institute in the Department of Arts, and Director of the Center for Deep Listening at Rensselaer. Loveless' co-edited volume, Situated Listening (forthcoming in 2024), is a collection of essays on theories and practices of embedded, contextual, and critical listening.
---
Lisa Schonberg is a composer and percussionist creating sound works based on ecological research. Informed by her background in entomology, Schonberg is interested in how listening to cryptic sound can challenge assumptions about insects. She has been collaborating with Brazilian entomologists on ATTA (Amplifying the Tropical Ants), a project investigating ant bioacoustics in the Amazon. Other recent work includes research on Oregon forest ecosystems, native Hawaiian bees, plastics and mushrooms. Schonberg's compositions are performed by Secret Drum Band, Antenna & UAU. She is the author of Text Scores for Getting to Know the Invertebrates, The Hylaeus Project, The DIY Guide to Drums, and has presented or performed at FILE Festival, Pompidou, Brooklyn Museum, Bosque da Ciencia (BR), American Museum of Natural History, and Museo Reina Sofia, and completed residencies at Labverde, Banff Centre, Pioneerworks, HJ Andrews Experimental Forest, and Signal Fire.
---
Ricardo Tovar Mateus is an interdisciplinary Colombian artist who focuses on collaboration across disciplines such as acoustic instrumentation, video, dance, and theater. Drawing from a diverse background and experiences, he explores themes such as identity, Colombian traditions, politics, and grief. Having studied at the University of Performing Arts Vienna and Rensselaer Polytechnic Institute in New York, his expertise as a composer and performer spans from classical to experimental improvisation and pop music. His collaborative projects, which have premiered at prestigious venues worldwide, push creative boundaries between media and engage in meaningful conversations with global audiences.
https://www.ricardotovarmateus.com/
Silvia Ruzanka is an artist-philosopher whose projects include virtual reality, interactive installation, video, and performance. Her work is concerned with the archaeology and memory of technology and media, and their intersections with everyday life. Her work has been presented at galleries, museums, and festivals internationally including the Museum of Contemporary Art, Chicago; SIGGRAPH; ISEA; the New Forms Festival (Vancouver); and the Bi-City Biennale of Urbanism/Architecture (Shenzhen, China), among others. She holds an MFA in Art and Technology Studies from The School of the Art Institute of Chicago and a B.A. in Physics from Smith College. She is an Assistant Professor in the Department of Arts at Rensselaer Polytechnic Institute, and is a Ph.D. candidate in Visual Arts: Philosophy, Aesthetics, and Art Theory at the Institute for Doctoral Studies in the Visual Arts in Portland, Maine. Her current research is in the philosophy of computation and care.
---
Michael Century, composer/performer and cultural theorist, is Professor of New Media and Music in the Arts Department at Rensselaer Polytechnic Institute, which he joined in 2002. Before Rensselaer, he worked as a new media researcher, inter-arts producer, and arts policy advisor (Banff Centre for the Arts (1979-93), McGill University (1998-2002), Government of Canada (1993-98)). His book Northern Sparks appeared in 2022 with The MIT Press. Century's works for live and electronically processed instruments have been performed and broadcast in concerts and festivals internationally, including ISEA, IRCAM Forum, Ars Electronica Expanded Animation, Media Art Histories, CCRMA@Stanford University, Toronto Music Gallery, Diapason Gallery (NYC), Vancouver Jazz Festival, Banff Festival of the Arts, CBC's Two New Hours.
---
Leo Chang is a Korean improviser, composer and performer of avant-garde music currently living in Brooklyn. Born in Seoul, Leo lived as an expat in Singapore, Taipei, and Shanghai, and then moved to the United States in 2011. His art is an act of home-making inspired by various musical and ideological movements that have sought to question power dynamics and imagine freedom within egalitarian possibilities. His primary methods are free improvisation, written text, graphical notation, and electronic processing. Leo has shared his artistic practice at various gatherings and venues: notably the Vision Festival, Pierre Boulez Saal, Pioneer Works, Ostrava Days New Music Festival, New York City Electro-Acoustic Music Festival, and the International Computer Music Conference. His projects have been supported by the Brooklyn Arts Council, Korea Foundation, EMPAC at Rensselaer, Chashama, and the Tank, among others.
---
Bibiana Med is a multimedia installation artist, researcher, and curator whose primary media has been photography for twenty years. They have photographed at The Kitchen, Brooklyn Botanical Garden, Princeton University and Albany Symphony Orchestra among others. Their photo-based work has been published in New York Times, Village Voice, American Photo, The Strad, Feature Shoot, and Conveyor, and exhibited and collected internationally including Photoville (New York) and Athens Photo Festivals (Greece), Hellenic Center for Photography (Athens), Pratt Library Special Collections, and Brown University and RISD Libraries. Bibiana's current investigation provides a critical approach to the developments of human expansion into outer space, the relationship between technology and frontier, and interrogates them through queer and anti-colonial lenses. Bibiana founded Pickled Press and Queer Space Network, co-edited a photography book series Fotofobia.
https://lnk.bio/bibianamed
https://bibiana.co/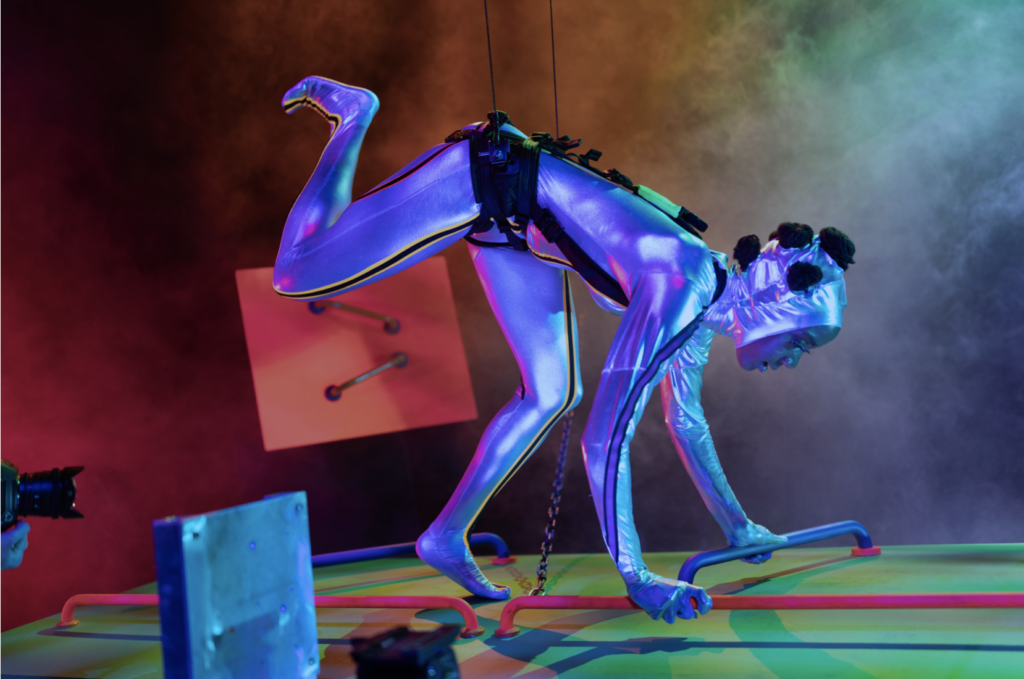 ---
Serendipitous Liquidators are an experimental art duo, Aaron Juarez and Kosmas Giannoutakis, who both share a passion for exploring the intersection of theory and aesthetics through their shared practice. They seek to engage in the digital medium fluidly through films, live coding, games, and installations. Their performances highlight remix, improvisation, and serendipity in unexpected audio-visual manifestations. Aaron Juarez is an interdisciplinary artist-researcher playing with digital structures. He employs disjunctive strategies between art and science to engage serendipity through experimental interactions of digital media, including photography, film, 3d models, analog printing and performance through live coding visuals. Kosmas Giannoutakis is a computer musician and researcher focusing on the theoretical and technical affordances of Distributed Ledger Technology in conjunction with alternative modes of collaborative musicking. His musical activities include studies in piano and percussion performance, composition, and computer music in Greece, Germany, and Austria, and presentations and awards of his works at various international festivals and conferences.
https://ww.serendipitousliquidators.art